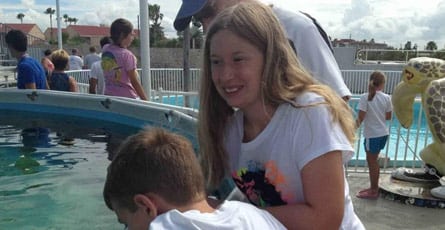 Interview
Name: Claire Logue
Mom: Colleen Davis
The story of Winter and Hope inspired 11-year-old Claire Davis so much that she decided to donate money to CMA to help animals in need.
Claire, 11:
Can you talk about what interested you in adopting Hope for your birthday?
I watched Dolphin Tale in the theater. I thought Winter was really inspiring. It was a good lesson about never giving up. Then, one year, we went to Florida, and we actually got to go to (CMA). It was really cool. For my birthday, I decided I wanted to donate money to adopt Hope. I wanted to take care of animals that need to be taken care of rather than me, because I have everything I need.
How did your friends react when you did this?
I took my adoption certificate to school, and all of them wanted to adopt their own animal. They thought it was really cool that I saved my own money. They thought Winter was really cool, how she survived. I hope other people want to (donate), too, to help other organizations or CMA.
What did you think about Dolphin Tale 2?
I saw it the first weekend it came out. I really liked it. I thought it was just as good as Dolphin Tale. It was really cool to have Hope in it, too — not just Winter. It was really inspiring and really well put together. And it had a really good theme and message. When they thought they were going to lose Winter after Panama died, they kept trying to look for new opportunities.
Colleen, Claire's mom:
Can you talk about Claire?
She's a good kid. Her dad calls her Dr. Doolittle. Little kids and animals follow her wherever she goes. She just has a great personality. She's volunteered for the animal shelter, and she does have a compassion for animals. I couldn't be more proud of her that she's putting somebody else's needs before her own. She realizes that she is a fortunate child, and she needs to give back to the community. The importance of saving wildlife and saving the environment is more important than anything else.
---
Winter's story has inspired millions of people all over the world! Read more inspirational stories.