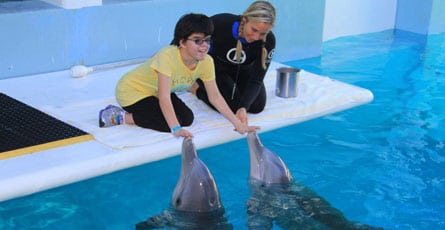 Meet Claudia Dopico, a 13 year old girl suffering from Apert Syndrome.
Apert Syndrome is a congenital disorder characterized by malformations of the skull, face, hands and feet. Claudia has undergone 13 surgeries on her hands, skull, mouth, eyes, ears and feet. 2011, Claudia was struggling after she had undergone toe separation surgery. Then she heard about Dolphin Tale, saw the movie and she says it changed her life. She was inspired to fight on. Winter has helped her get through the pain and doesn't let Apert Syndrome stop her. She can now ride her bike, run, hike and goes horseback riding. She even has plans to hike the Grand Canyon one day soon. She even wants to become a marine mammal trainer!
Claudia was brought to Clearwater Marine Aquarium's attention after she explained her powerful story to the world on Clearwater Marine Aquarium's Facebook page via a video explaining her unique story and how Winter has inspired her. CMA staff immediately reached out to set up an interaction between Winter and Claudia.
Claudia's dreams of meeting Winter came true on November 10th 1 day after her 14th birthday-what a fantastic way to celebrate!
---
Winter's story has inspired millions of people all over the world! Read more inspirational stories.