Visit Otter Oasis to learn about the North American River Otter and visit with our resident otters, Walle & Boomer!
Where to See
Resident Otters
Walle
North American River Otter
(Lontra canadensis)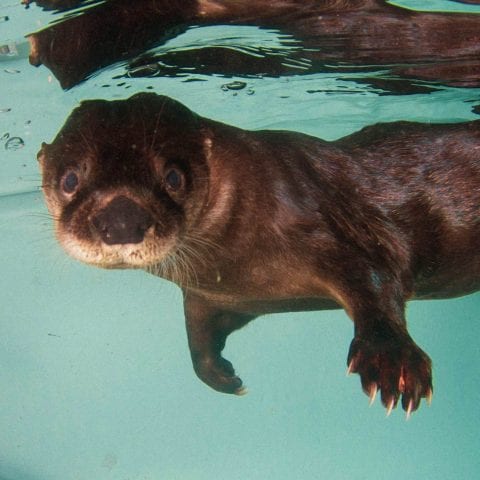 Age

10

Sex

Male

Arrival Date

11/19/2012
Diet

Mullet, Lake smelt, feline diet, silversides, trout
Walle was rescued from the wild as a very young otter. His rescuer raised him on his boat and thought he was doing the right thing by keeping him as a pet. As Walle continued to grow and develop, his caretaker recognized that caring for a juvenile otter was much more intense than a regular household pet and assumed that if Walle were placed back into the wild, he would resume life as a normal otter. Much to his caretaker's dismay, Walle returned to the boat. What his caretaker did not know was that North American river otters must learn survival skills from their mothers and family group. Walle's caretaker realized that Walle would continue to return, so he was transported to a wildlife rehabilitator in Gainesville, FL. Shortly after that, Clearwater Marine Aquarium received a call from the Florida Fish and Wildlife Conservation Commission asking if Walle would be able to reside at the aquarium under the care of our animal care staff.
Prior to coming to CMA, Walle was transported to Homosassa State Park and was put under quarantine to be sure he was not harboring any diseases or parasites. During this period, staff members were sent to the park to familiarize themselves and begin building a relationship with Walle.
Boomer
North American River Otter
(Lontra canadensis)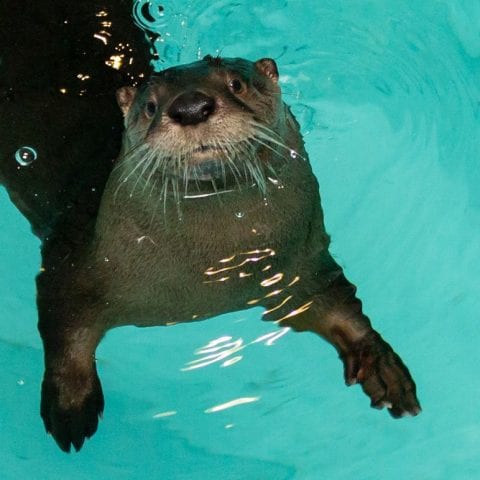 Age

4

Sex

Male

Arrival Date

10/15/2018
Diet

Mullet, Lake smelt, feline diet, silversides, trout
Boomer, a North American river otter, was born in January 2018 and was transferred to CMA on October 15, 2018, from another animal care facility.  Boomer came to CMA to be a social partner for Walle, a rescued and non-releasable otter, who was residing by himself at that time. As with Winter and Hope, Walle and Boomer became fast friends and continue to have a fun relationship.
Otter Species
North American River Otters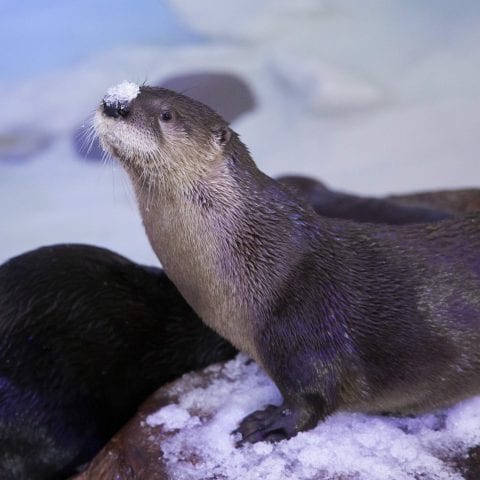 Status

Least Concern

Average Size

18 lbs

Threats

Trapping, poaching, habitat loss, pollution
Location

Throughout North America
Did You Know…
River otters can hold their breath for up to 8 minutes underwater.
Baby river otters are called otter kits.
River otters can dive to depths of up to 60 feet!
Otters wash themselves after every meal.