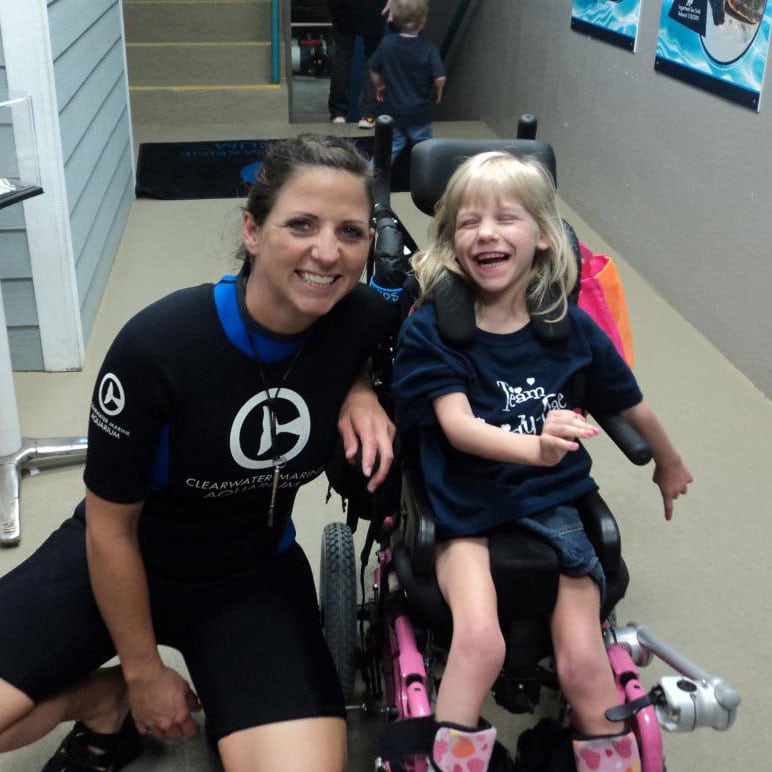 Interview
Name: Cassidy-Rae Luebbering
Mom: Renee Luebbering
A young girl facing physical challenges has "a special bond" with Winter and Hope.
Can you talk about your daughter, Cassidy-Rae, and her connection with Clearwater Marine Aquarium?
Cassidy-Rae was born 10 weeks early and was in the NICU for 51 days. She is now 7 years old. She has spastic quadriplegia, severe hearing loss, a g-tube, and developmental disabilities. She cannot say very many things and has high blood pressure.
But if all of us were the same, it'd be a pretty boring world. Cassidy-Rae, she's like everyone else, she just comes with more equipment. And I think she makes me unique because of all the challenges we face and all of the triumphs that we have to encounter.
She cannot say very many things, but she lights up a room. She's a really petite little girl. She can make anybody smile, anytime; she is the happiest little girl I've ever met. I have learned so much from her on not taking life for granted. She's my miracle. I don't know what I'd do without her.
How does Cassidy-Rae respond to the Dolphin Tale movies?
Whenever we see Dolphin Tale, she gets so excited. Cassidy-Rae relates to Winter because she is in a wheelchair and has several pieces of special equipment. Everytime she watches the movie, she makes all kinds of sounds, which is just music to our ears. I think she just has a bond with (Hope and Winter).
When did you get to meet Hope and Winter?
Dream Factory, a charity, gave us the opportunity to meet Winter on March 25 of this year. We had to get down on our hands and knees so we could actually touch Winter. She would wave at us. She would turn upside down so we could see her tail. It was absolutely amazing. I don't know who was more excited, me or Cassidy-Rae. My daughter actually got to meet Winter! We also got to say hi to Hope.
What message would you have for others facing their own challenges?
By having movies about Winter, and showing people with disabilities, people can recognize the disabled as people, too. They shouldn't be disregarded. They shouldn't be made fun of. We're all humans, and everyone needs to be respected.
---
Winter's story has inspired millions of people all over the world! Read more inspirational stories.