Visit our nurse shark Thelma, and watch her circle around her habitat from above or underwater! A private collector took Thelma out of the wild as a young pup and later learned that nurse sharks continue to grow regardless of their tank size. When she had outgrown her tank, the collector could no longer care for her and brought Thelma to Clearwater Marine Aquarium.
Where to See
Resident Shark
Thelma
Nurse Shark
(Ginglymostoma cirratum)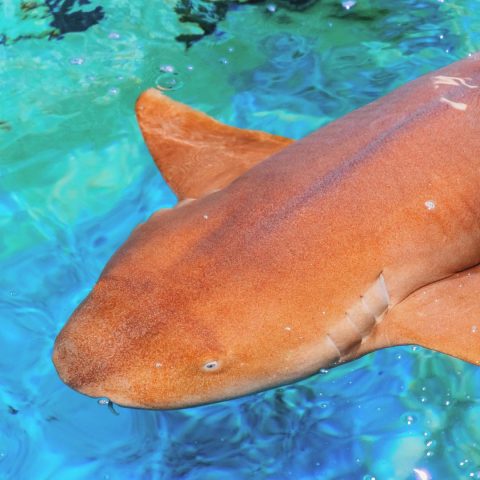 Sex

Female
Length

Nearly 7 feet
We have given Thelma a forever home here at CMA where she has plenty of room to move about. Thelma has learned to voluntarily participate in her own medical management program through target-pole training. You can get an underwater view of Thelma with other marine fish down Shipwreck Alley in the Sea Cavern, or watch her from above at Shark Pass.
Shark Species
Status

Data Deficient

Average Size

130 lbs

Location

Caribbean, American west coast
Threats

Line fishing, commercial fishing

Defining Characteristic

Slow-moving bottom dweller
Reach lengths of up to 14 feet
Did You Know…
Nurse sharks possess very sharp teeth, can grow up to 14 feet long, and live to be about 25 years old.
A nurse shark's teeth are fan-shaped.
Nurse sharks use their powerful throat muscles, or pharyngeal muscles, to suck up their prey.
Nurse sharks are nocturnal, and can be found on sandy bottoms such as reef flats, sandy lagoons, and near mangroves.
The process in which nurse sharks suck up their prey is similar to a baby nursing on it's mother, hence the name, nurse shark!