Rex is a rough-toothed dolphin who was found stranded off of St. George Island, Florida in April 2019. He became a resident at CMA in August 2020, when he joined our first rescued rough-toothed dolphin, Rudolph.
In Memory of Rex
It is with heavy hearts that we announce the sudden passing of resident rough-toothed dolphin, Rex. It was our privilege to care for Rex, he was loved by our CMA family and guests from around the world. The knowledge, research, and lessons Rex taught us will help us care for his species in the future.
As a working marine animal hospital, CMA specializes in providing care to marine animals that need recovery and rehabilitation before being released or providing a forever home to those that cannot be released due to physical limitation.
Rex came to CMA in 2020 with health challenges and was determined to have significant hearing loss making him non-releasable. For several years his health remained stable, but last week animal care staff noticed a change in Rex's behavior, including his decline in eating. When his condition worsened, animal care staff intervened to monitor him 24 hours a day and provide Rex veterinary support and care to keep him comfortable. Despite extensive efforts, Rex passed away on March 6. A necropsy, which is like an autopsy for a human, is scheduled to try and determine the cause of death.
We are thankful for your kindness and support during this time.
About Rex
Rex
Rough-toothed dolphin
(Steno bredanensis)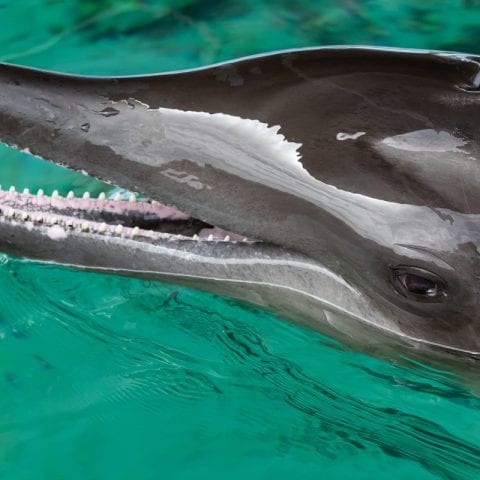 Age

8

Sex

Male
Diet

Herring, capelin, silversides
Rescue Date

04/19/2019

Origin

St. George Island, Florida
Rex is a rough-toothed dolphin who stranded on St. George Island in Franklin County, Florida on April 19, 2019, and is estimated to be about 5-7 years old. He had fair body condition upon stranding, Further diagnostic testing revealed that Rex had ingested several marine sponges! It is common to find sponge in the stomach of this particular species. Interestingly, one theory is that this behavior could be correlated with hearing loss. This concept suggests eating sponges may fill the stomach when finding fish may be difficult due to loss of hearing associated with echolocation.
During his rehabilitation, hearing tests determined Rex had significant hearing loss, which would impact his ability to echolocate for food and to evade predators. Because of his hearing loss, NMFS deemed Rex non-releasable in August 2019 and placed him for care at Gulf World which was the only facility to house other rough-toothed dolphins. Because of the close proximity of age, Rex made the perfect partner for Rudolph the rough-toothed dolphin, whose home is Clearwater Marine Aquarium.
More about Rex
Rex was originally a permanent resident at Gulf World, the only North American facility at the time to house rescued rough-toothed dolphins. In July 2020, a rough-toothed dolphin named Rudolph became a permanent resident at Clearwater Marine Aquarium after being deemed non-releasable due to similar hearing loss. CMA has a history of providing excellent care for dolphins who exhibit hearing loss, like Panama, PJ, and Hemingway.
Rex joined the CMA family in August 2020 and became Rudolph's companion on the Rescue Deck, where they became very fast friends! They can often be seen playing together at the Rescue Deck and on our webcams.
Did You Know…
Rex was found stranded and was reported by local residents.
Rough-toothed dolphins can remain underwater for up to 15 minutes.
Rex became the 2nd resident rough-toothed dolphin at CMA.