Apollo is CMA's newest resident Atlantic bottlenose dolphin. He was found stranded in Playalinda, Florida and was brought to CMA in 2021.
Where to See
About Apollo
Apollo
Atlantic bottlenose dolphin
( Tursiops truncatus)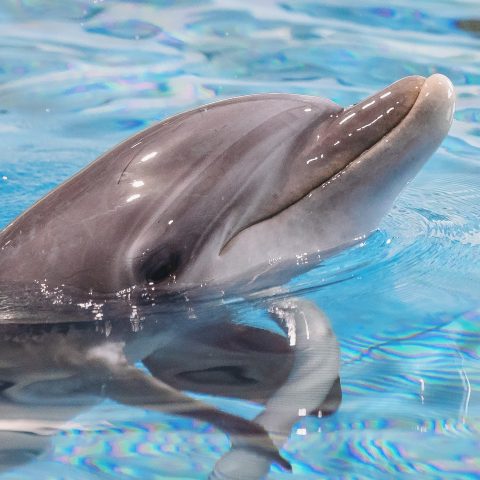 Age

2

Sex

Male
Diet

Herring, capelin, silversides
Rescue Date

05/15/2021

Origin

Playalinda, Florida
In May 2021, Apollo, an Atlantic bottlenose dolphin stranded off of Playalinda, Florida. At the time of his rescue, he was thin and had parasites on his dorsal fin, pectoral fins, and fluke. He was transported to SeaWorld for rehabilitation. Upon intake, initial diagnostics revealed that Apollo also had stomach and lung inflammation. After months of intensive treatment, his health improved. However, during a hearing test administered by the National Marine Mammal Foundation, it was discovered that Apollo suffered from hearing loss, compromising his ability to echolocate. National Marine Fisheries (NMF) determined he was not a candidate for release and selected Clearwater Marine Aquarium as his forever home.
More about Apollo
Apollo will first be introduced to PJ and then eventually Hope. Integration to the female group would be of mutual benefit for all animals and enhance the current social dynamics. As an older, maternal female, PJ would benefit from the opportunity to nurture a young animal and Apollo would benefit from this type of interaction and the natural social structure it would provide. His naturally energetic, 2-year-old nature combined with the temperaments of PJ and Hope would likely result in more social engagement involving play, exercise, and exploration. Once Apollo matures, he will likely join Nicholas and Hemingway's social structure.
Did You Know…
Apollo stranded approx. 20 miles from where Winter and Hope were rescued.
Apollo was rescued on the Space Coast of Florida, influencing his name.
A hearing test performed by the National Marine Mammal Foundation discovered he has atypical hearing loss for his age.