Apollo was a rescued Atlantic bottlenose dolphin that was found stranded in Playalinda, Florida and was brought to Clearwater Marine Aquarium in 2021.
In Memory of Apollo
We are saddened to share the passing of Atlantic bottlenose dolphin, Apollo, age 4, who lived at CMA since 2021 after being found stranded. As a working marine animal hospital, CMA specializes in providing care to marine animals that need recovery and rehabilitation before being released or providing a forever home to those that cannot be released due to physical limitation.
A necropsy, an animal autopsy, was performed by an independent veterinary pathologist. Preliminary gross findings revealed severe hydrocephalus as the cause of death, which is an abnormal accumulation of cerebrospinal fluid within the brain, causing enlargement of the ventricles. The condition has been documented in dolphins but is uncommon and unfortunately is untreatable. The cause of his condition is pending the final necropsy report.
In March, we noticed some changes in Apollo's condition and had been closely monitoring his health. At that time, Apollo was not stable enough to undergo further advanced testing. We are grateful to have provided a loving home for Apollo for the time he was with us. CMA's mission continues as a working marine animal hospital that cares for rescued marine animals that arrive with injuries or compromised health. Some of these pre-existing health situations may be apparent at the time of rescue, but other conditions may be discovered later. We will continue to study and learn from Apollo's medical situation to share more knowledge about stranding conditions in dolphins and develop improved treatment options to care for more animals that need help in the future. 
Apollo was stranded on Playalinda, FL, in May 2021. Apollo was found with health challenges including parasites on his dorsal fin, pectoral fins, and fluke along with stomach and lung inflammation. He was also determined to have significant hearing loss making him non-releasable.
"Our team is heartbroken by Apollo's passing. The welfare and well-being of our animals have always been our top priority at Clearwater Marine Aquarium. Apollo was a beloved member of our CMA family, and his passing has left a void in our hearts. This serves as a reminder of the profound impact these animals have on our lives and the importance of our conservation efforts. We will continue to learn from Apollo's life. We would like to express our gratitude to the dedicated staff and veterinary professionals who worked tirelessly to provide the best possible care for Apollo. Their expertise, compassion, and commitment to the well-being of our animals are admirable." said Dr. James "Buddy" Powell, chief zoological officer for CMA.
About Apollo
Apollo
Atlantic bottlenose dolphin
( Tursiops truncatus)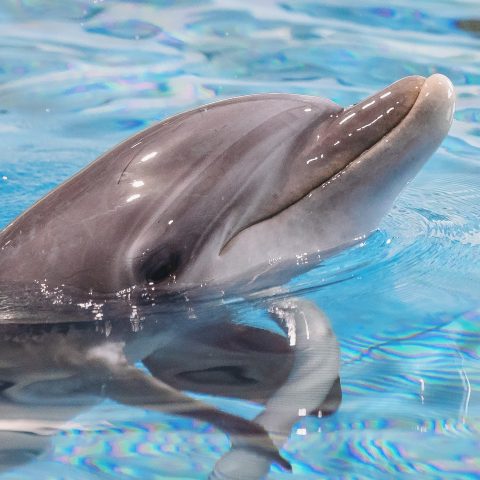 Estimated Age

4

Sex

Male
Diet

Herring, capelin, silversides
Rescue Date

05/15/2021

Origin

Playalinda, Florida

Arrival Date

12/14/2021
In May 2021, Apollo, an Atlantic bottlenose dolphin stranded off of Playalinda, Florida. At the time of his rescue, he was thin and had parasites on his dorsal fin, pectoral fins, and fluke. He was transported to SeaWorld for rehabilitation. Upon intake, initial diagnostics revealed that Apollo also had stomach and lung inflammation. After months of intensive treatment, his health improved. However, during a hearing test administered by the National Marine Mammal Foundation, it was discovered that Apollo suffered from hearing loss, compromising his ability to echolocate. National Marine Fisheries (NMF) determined he was not a candidate for release and selected Clearwater Marine Aquarium as his forever home.
Did You Know…
Apollo stranded approx. 20 miles from where Winter and Hope were rescued.
Apollo was rescued on the Space Coast of Florida, influencing his name.
A hearing test performed by the National Marine Mammal Foundation discovered he has atypical hearing loss for his age.