Join us for a summer celebration with extended evening hours, live entertainment, family fun and free boat tours!
Summer Glow has been extended! Join us for Summer Glow Fridays and Saturdays on select dates from 4pm to 8pm through September 3!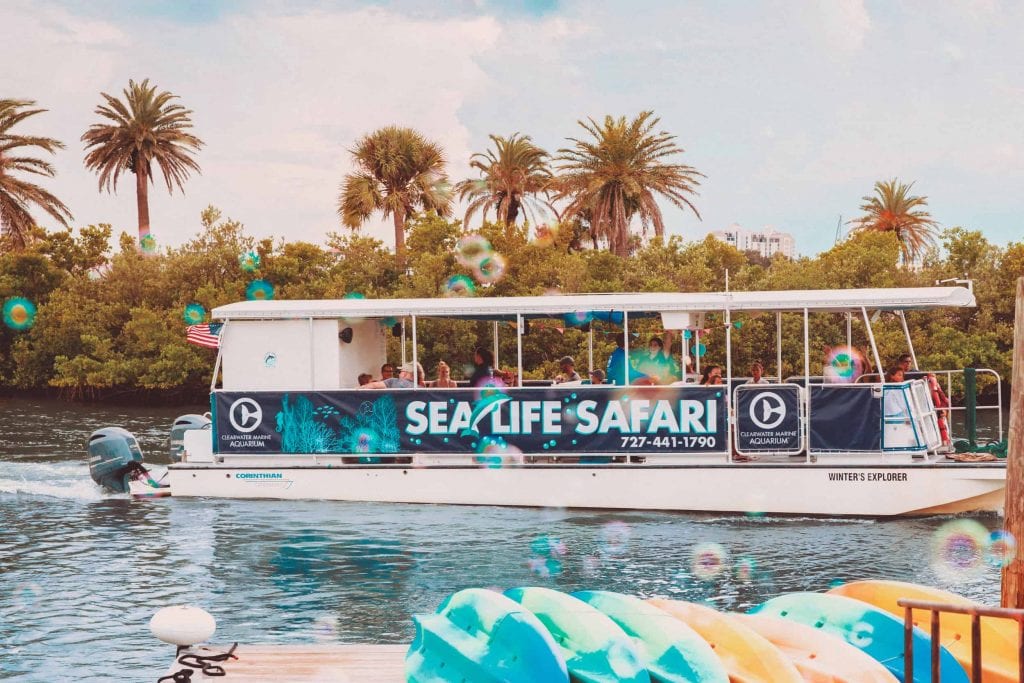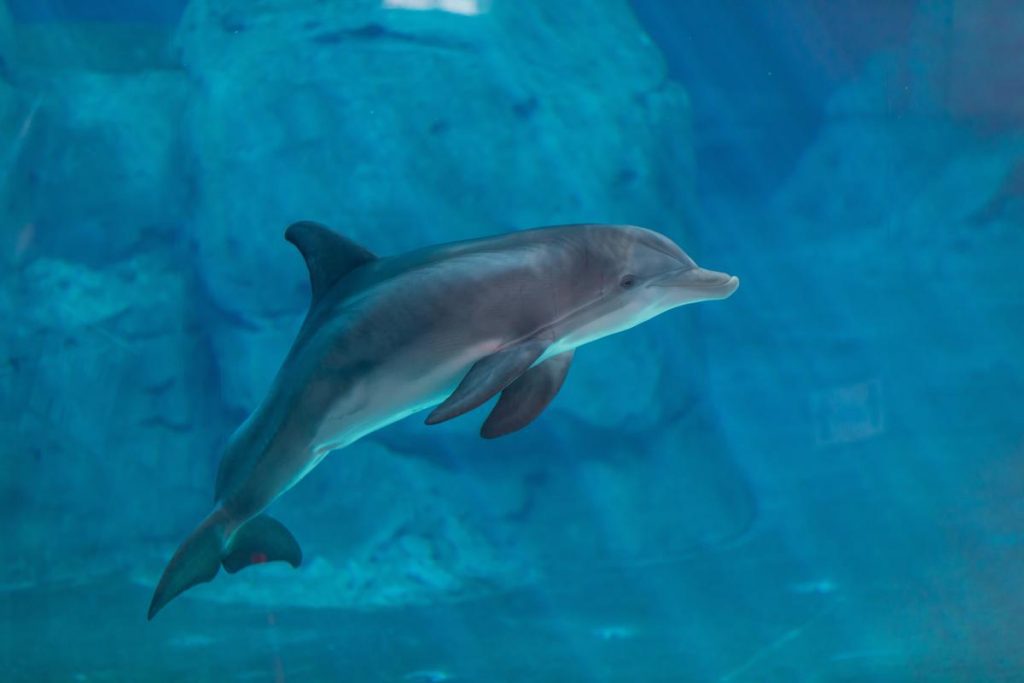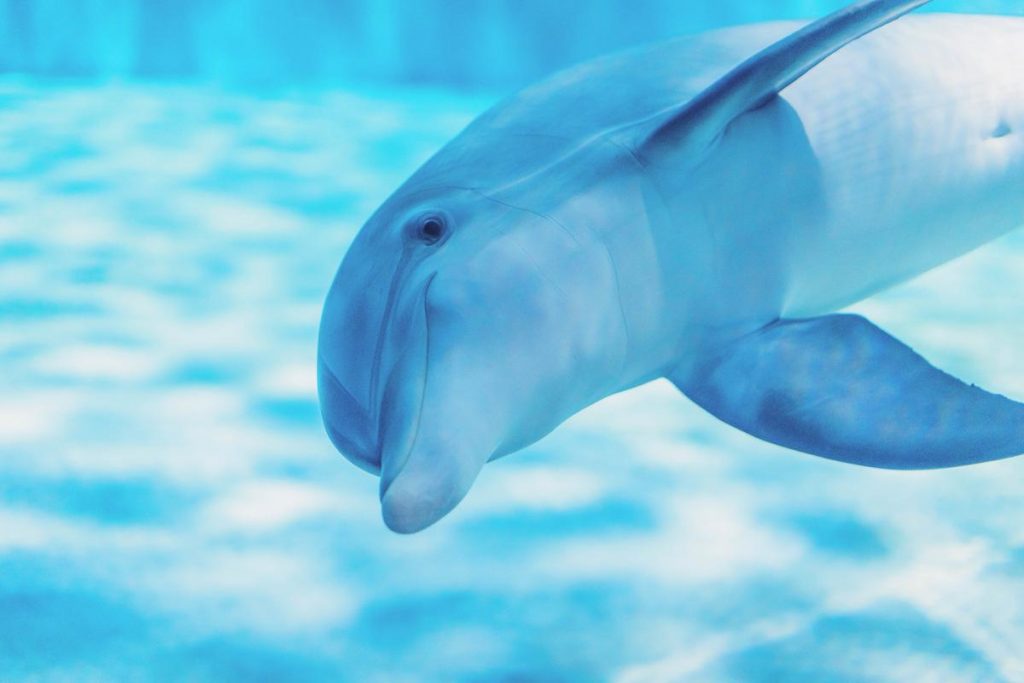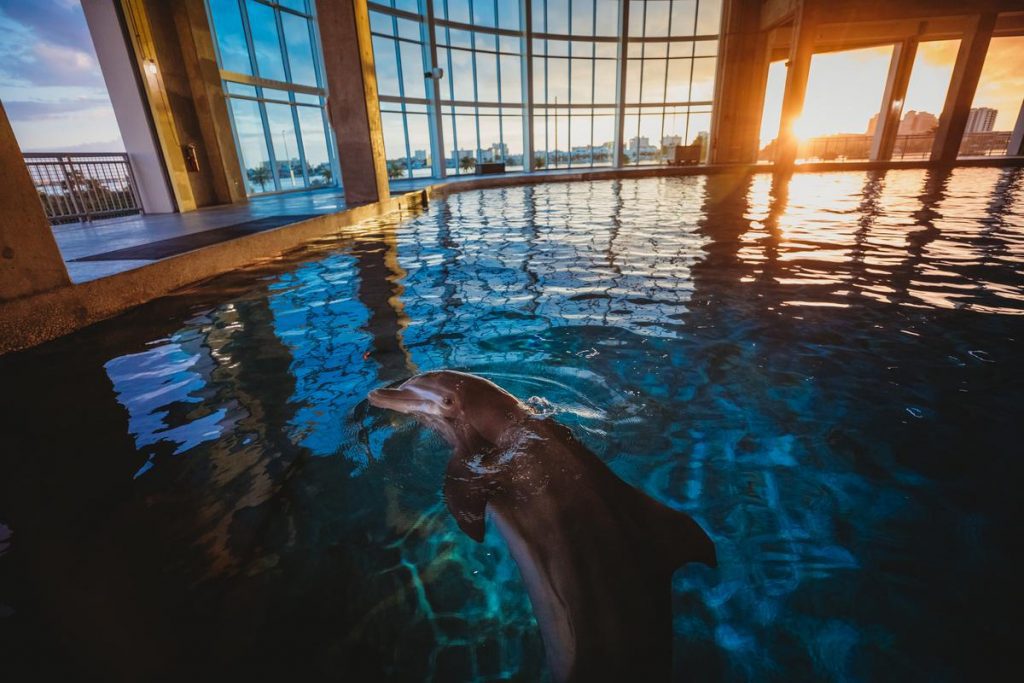 Event Details
May 27-Sept. 3
4pm-8pm Fridays & Saturdays on Select Dates. (No Summer Glow hours on August 6.)
Summer Glow access is included with General Admission!
As the evening begins, Clearwater Marine Aquarium transforms into a summer celebration every Friday and Saturday through Sept. 3. Enjoy live entertainment, family-friendly activities, festive food, drinks and the sparkling views of the water. Float away on a free boat tour. Experience a different atmosphere throughout the aquarium and watch as the rescued marine animals interact in new ways. It's the summer of peace, love and dolphins. Celebrate with us during Summer Glow evening hours at CMA!
Summer Glow activities included with purchase of general admission after 4pm on select dates!
Dates and details subject to change. Summer Glow hours are 4pm to 8pm on select dates through Sept. 3, 2022. One free boat ride ticket per guest with purchase of admission after 4pm on select dates. Boat tickets can only be reserved onsite on day of visit with admission after 4pm. 30-minute boat rides begin at 4:!5pm and run every 15 minutes. Final boats depart at 6:45pm. Boarding is first come, first served. Space is limited and subject to availability. No strollers or wheelchairs permitted on boats. Boat rides and all activities subject to change or cancellation due to weather. No Summer Glow date on Aug. 6.
A re-entry fee applies during special events or extended hours at CMA, including Summer Glow. Re-entry into CMA on these days is $20.00 per person. Guests may apply their purchased admission value and upgrade to a Clearwater Marine Aquarium membership instead of paying a re-entry fee. Members can re-enter at no additional charge.
It's the Summer of Peace, Love and Dolphins!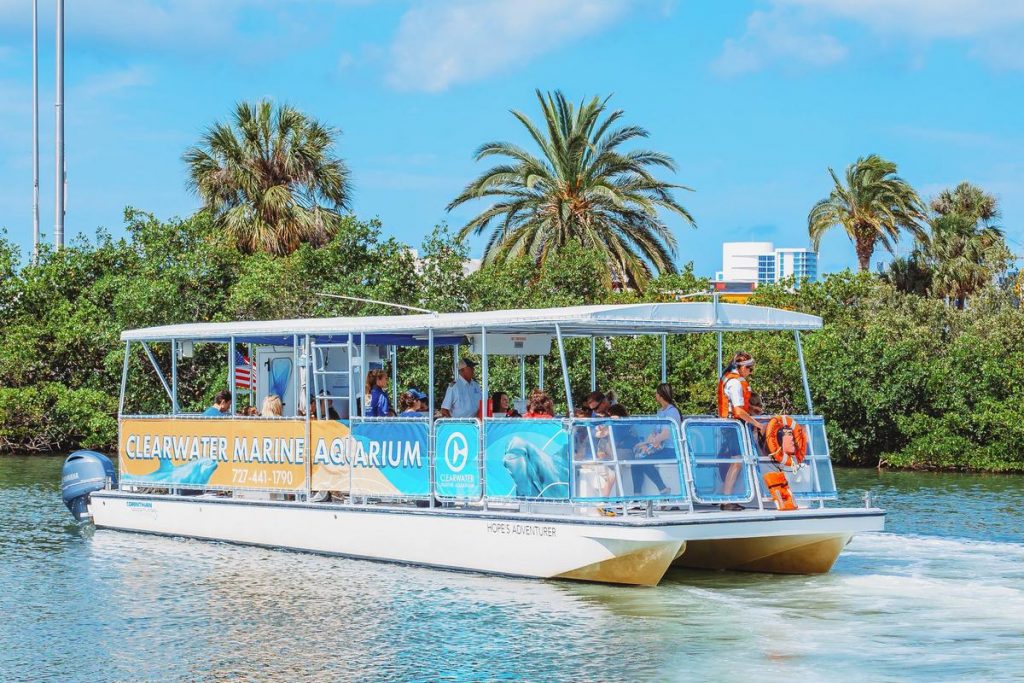 Float Away on a Free Boat Tour
Board a free 30-minute boat tour during the Summer Glow hours after 4pm and discover our beautiful local waters and wildlife. Cruise or lose! You don't want to miss this free ride included with admission after 4pm!
Subject to weather and availability.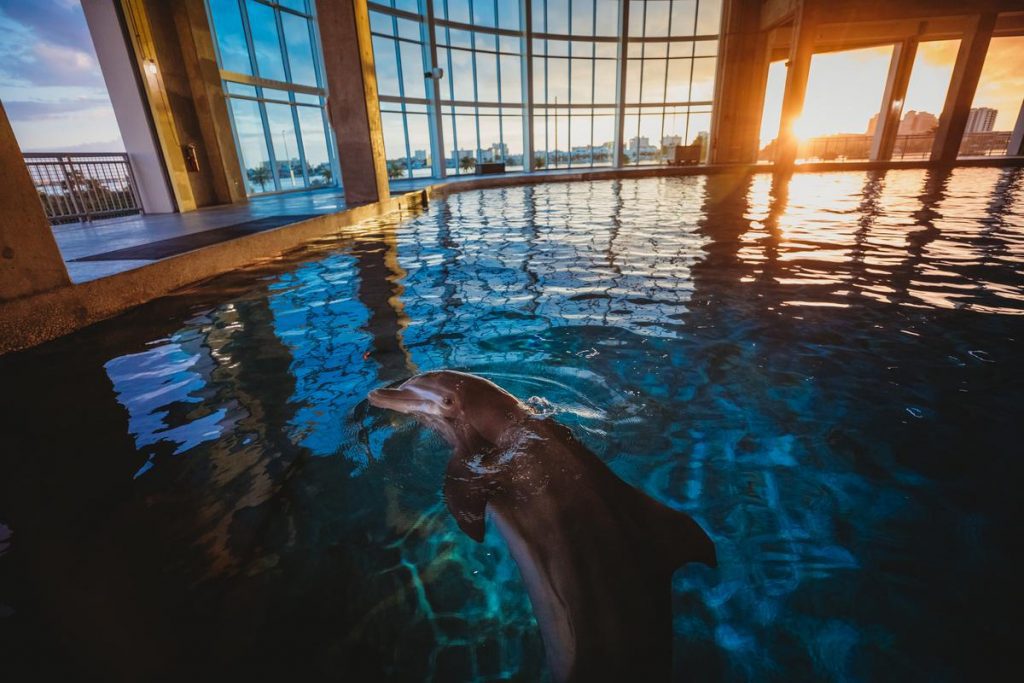 More Time for Marine Life
Take your time, go to the beach first, relax, and enjoy extended hours at the aquarium with family and friends from 4pm to 8pm during Summer Glow evenings, and spend extra time with the rescued marine animals at CMA. We'll be waiting with good vibes and dolphins by the bay.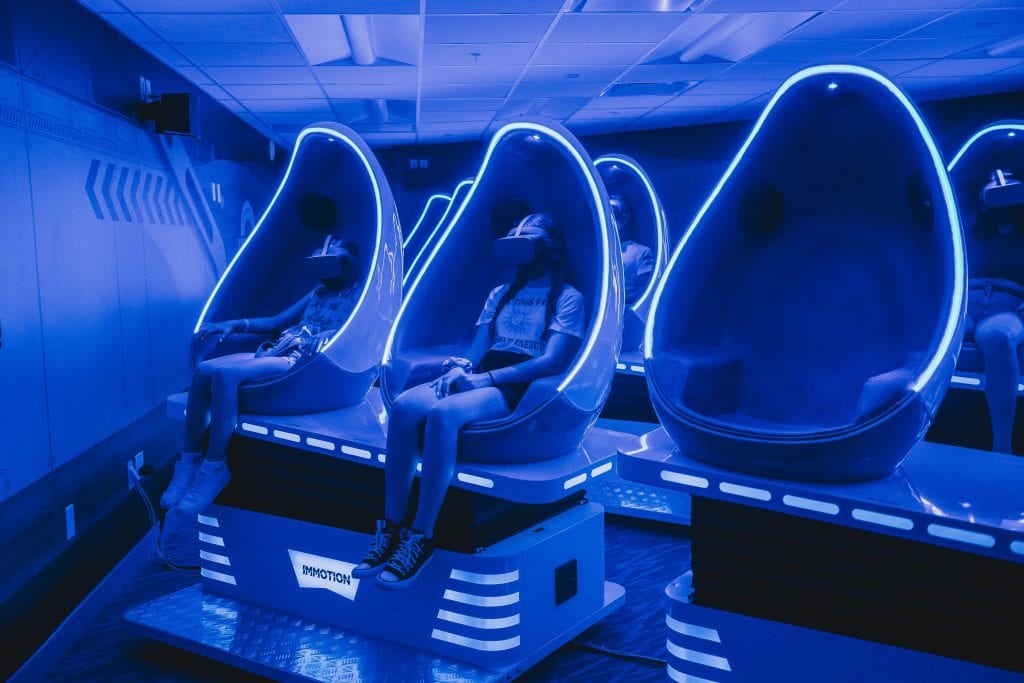 Try the Ultimate VR Experience
Located on the upper level, CMA's Virtual Reality Theater is an immersive experience that features state-of-the-art, motion platform VR technology that transports guests into a unique experience. A special "Remembering Winter the Dolphin" VR Experience is free with your VR purchase.
Rough-Tooth Photo-Booth
Go poolside and meet the rare rough-toothed dolphins, Rex and Rudy when you book a Photo-booth with Rough-Toothed Dolphins program only available during Summer Glow evenings. Our professional photographers will capture the memories with you and the rescued dolphins!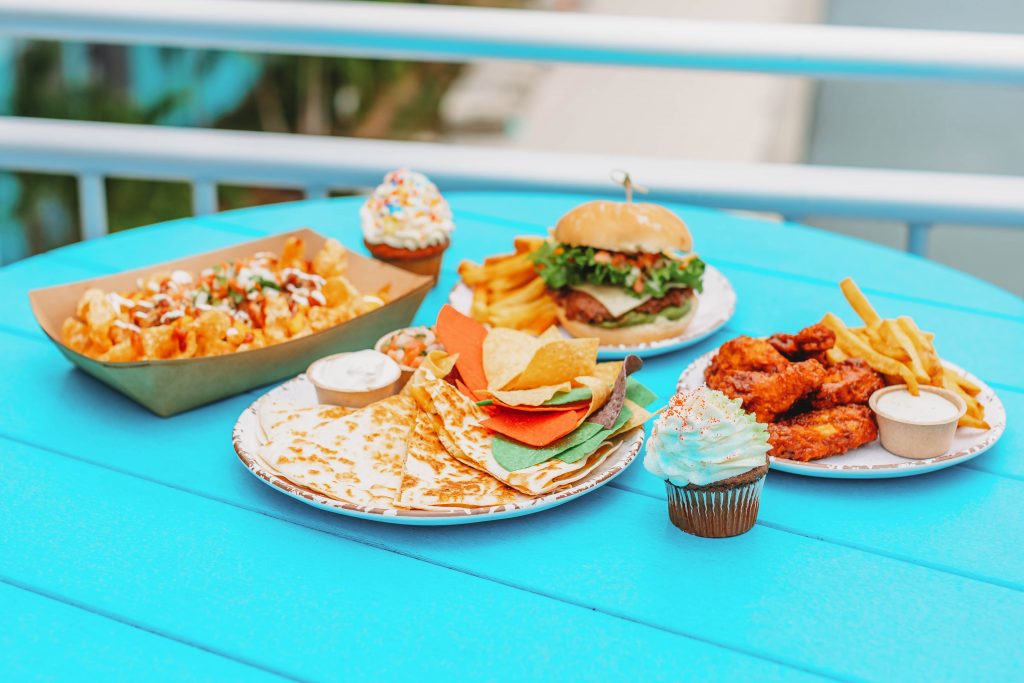 Taste the Flavors of Summer
Discover new festive food and beverages, including dolphin pretzels, Dippin' Dot dolphin sundaes and fun treats for the whole family during Summer Glow.
Celebrate With Us
Join the party as CMA celebrates 50 years of marine life conservation! Enjoy a variety of live entertainment, music and activities for all ages throughout the season during Summer Glow evenings.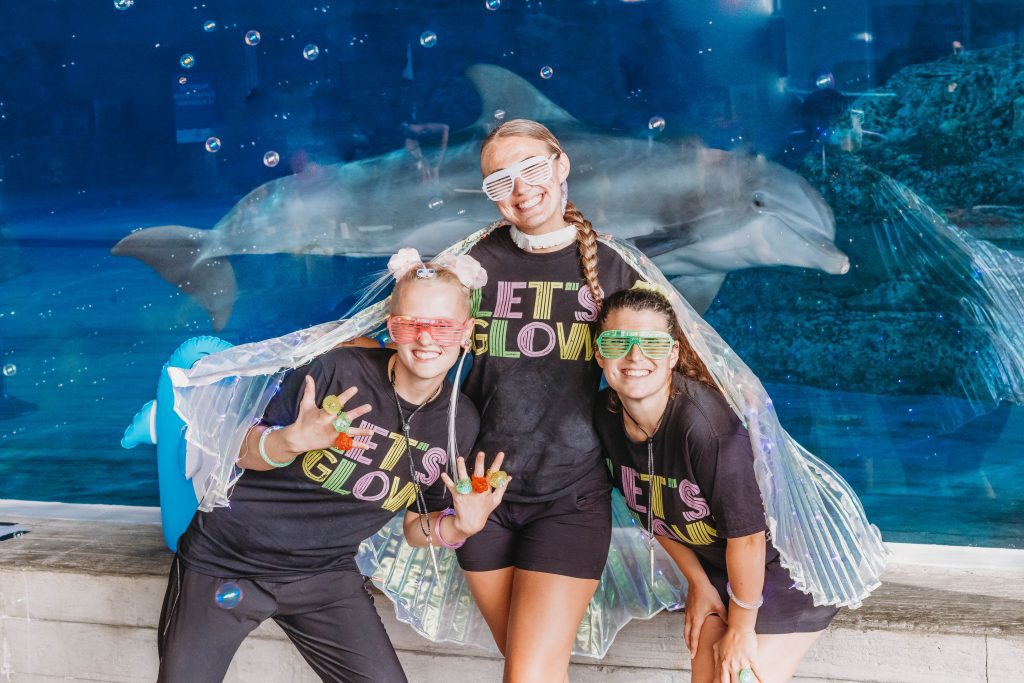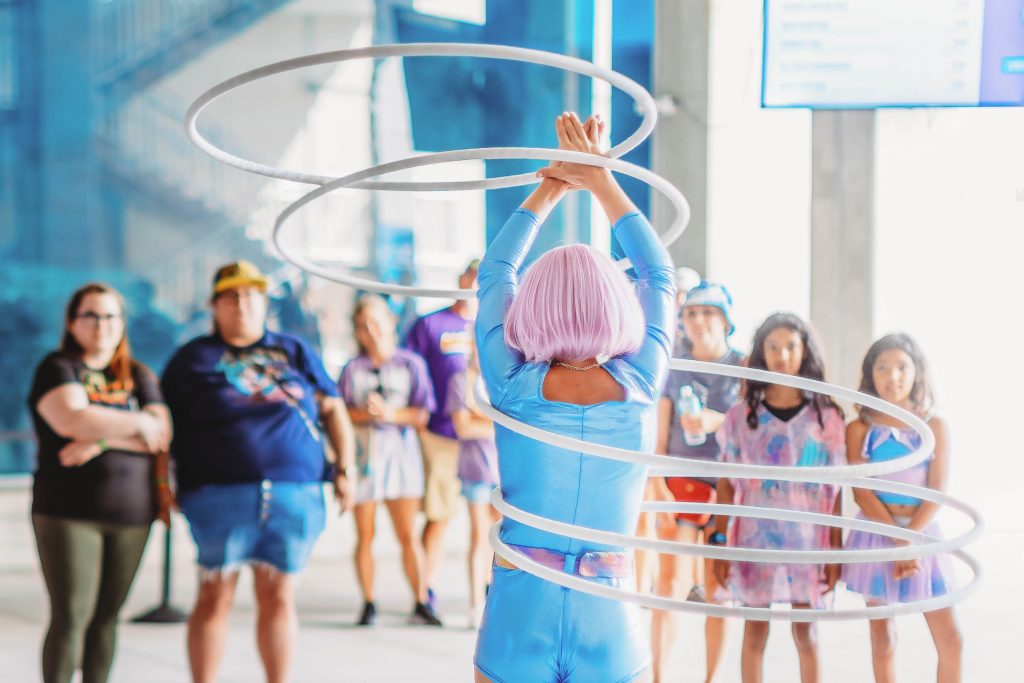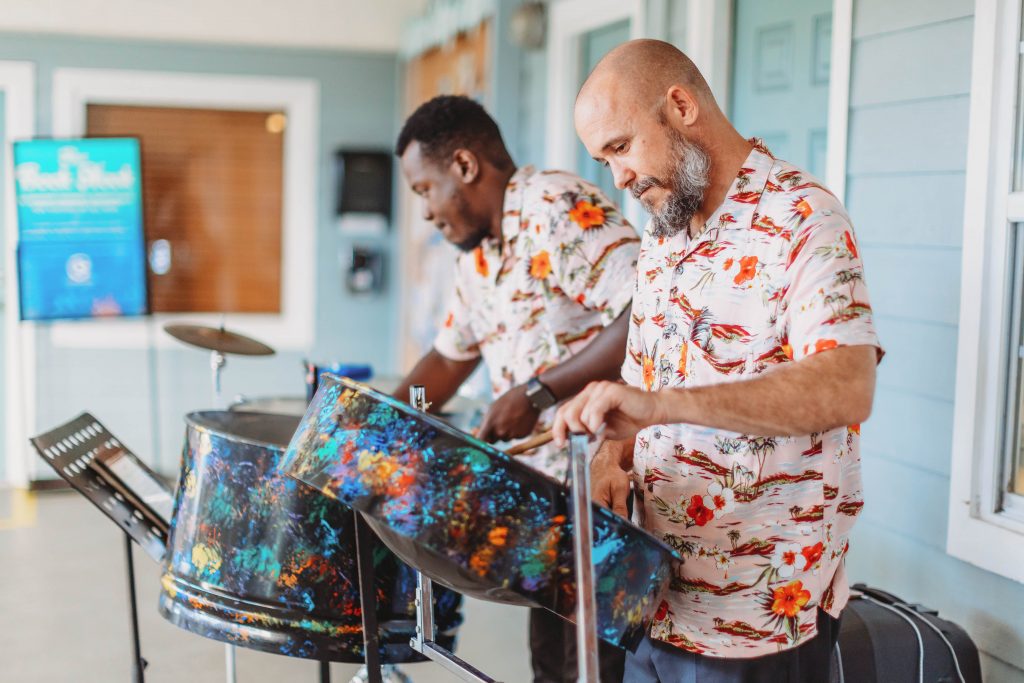 Schedule of Activities
In addition to live musical entertainment and performers throughout the evening, there will be scheduled activities for kids and special presentations for guests of all ages.
4:00

pm

Let's Glow Kids Party

Atlantis Theater (4pm-8pm) – Original CMA Level 1

4:00

pm

Underwater Dolphin Presentation

Window of Wonder – Dolphin Complex Level 1

4:30

pm

Glow Slime Time With Professor Peduncle

Dolphin Tale Theater – Visitor Center Level 4

5:30

pm

Story Time: Glowing Animals

Mangrove Key Kids Zone – Original CMA Level 1

5:30

pm

Glow Slime Time With Professor Peduncle

Dolphin Tale Theater – Visitor Center Level 4

6:15

pm

Dolphin Talk

Dolphin Terrace – Level 3

6:30

pm

Glow Slime Time With Professor Peduncle

Dolphin Tale Theater – Visitor Center Level 4

6:30

pm

Story Time: Glowing Animals

Mangrove Key Kids Zone. – Original CMA Level 1

7:10

pm

Dolphin Disco Dance Party

Window of Wonder – Dolphin Complex Level 1
All activities are subject to change, cancelation or relocation at any time and may be dependent on weather.
Member Access All Year!
Get the most out of Summer Glow and other special events as a CMA member!
Become a CMA Member and receive unlimited access to every Summer Glow evening! Enjoy the lineup of live music, entertainment and the marine animals you help support all summer!
---
Summer Tips at CMA
Visit beautiful Clearwater Beach, less than a mile down the causeway from CMA. Spend your morning enjoying the sugar sand beach and crystal clear Gulf of Mexico. Then visit for extended hours at Clearwater Marine Aquarium during our Summer Glow evenings until 8pm on select dates.
Stay Hydrated. Florida is known for its beautiful yet hot weather. To ensure you have a safe summer, take the time to drink plenty of water whether you are visiting CMA or spending time outdoors at the beach.
Spread that SPF. Summertime equals sunshine! The sun can be both your best friend and your worst enemy. Although it boosts your Vitamin D intake, it can still damage your skin. So make sure to protect yourself by packing an extra eco-friendly sunscreen and making it part of your summer routine.
Book your programs in advance. Our popular animal care experiences and photo moments have limited capacity and will often sell out before the day begins. Make sure to secure your spot by reserving your tickets online in advance.