Nicholas the dolphin is on an extraordinary winning streak of sports predictions with his third correct pick in a row. On April 3, 2017, we watched Nicholas pick the University of North Carolina to win the NCAA College Basketball Men's National Championship. Nicholas had the choice of two basketballs from each team and without hesitation chose the UNC ball. Last night the UNC Tar Heels fulfilled Nick's prediction and defeated the Gonzaga Bulldogs 71-65!
Nick Selected Patriots to Win the Big Game
In February, Nick also correctly predicted the Super Bowl winner, the New England Patriots. The Patriots came back late in that game to defeat the Atlanta Falcons in overtime 34-28 for the largest comeback in Super Bowl history. We don't think Nicholas ever had a doubt.
Nick Picked Clemson Tigers to Win College Football Championship
Nick's 2017 winning streak began in January, picking Clemson University to upset Alabama in the NCAA College Football Playoff national championship held at Raymond James Stadium in Tampa, Florida. College football fans filled the Tampa Bay area for Championship Week, including events at nearby Clearwater Beach.
Clemson fans gathered at Clearwater Marine Aquarium after the victory to celebrate with Nicholas, many of them leaving their trademark tiger paw $2 bills in support of CMA's mission. The lucky football that Nick picked to predict their victory was signed and auctioned off to support our Animal Care Fund. The winning bidder was a Clemson fan living in Florida and was able to come meet Nicholas with his family and take home the lucky ball.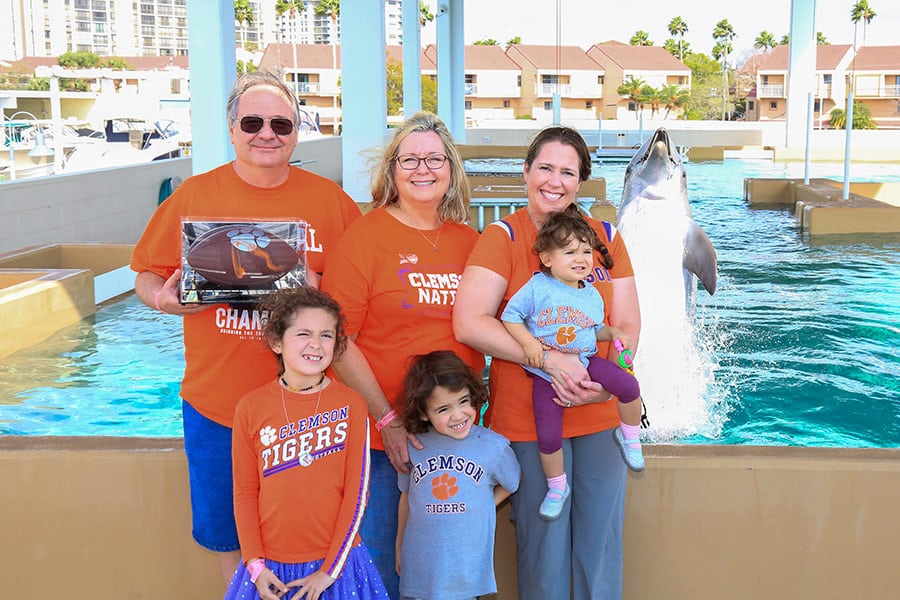 UNC Basketball Giveaway
We will be giving away the lucky UNC basketball, signed by Nicholas himself, to one lucky fan. For a chance to win the ball, simply post a comment on Winter's Facebook page and tell us why you should win this special basketball. The winner will be announced on Thursday, April 6, 2017, at 3 p.m.
Watch Nick's latest winning pick below
---
Nicholas is a rescued bottlenose dolphin that was found stranded with severe sunburns. He was orphaned and unable to learn necessary survival skills as a calf, therefore he became a permanent resident at Clearwater Marine Aquarium. You can read more about his story or watch him on our live webcams.