Experience Details
Minimum Age

7

Duration

15 min

Days Available

Mon, Wed, Fri, Sat, Sun
Time

Varies By Date

Includes

6 x 8 Photo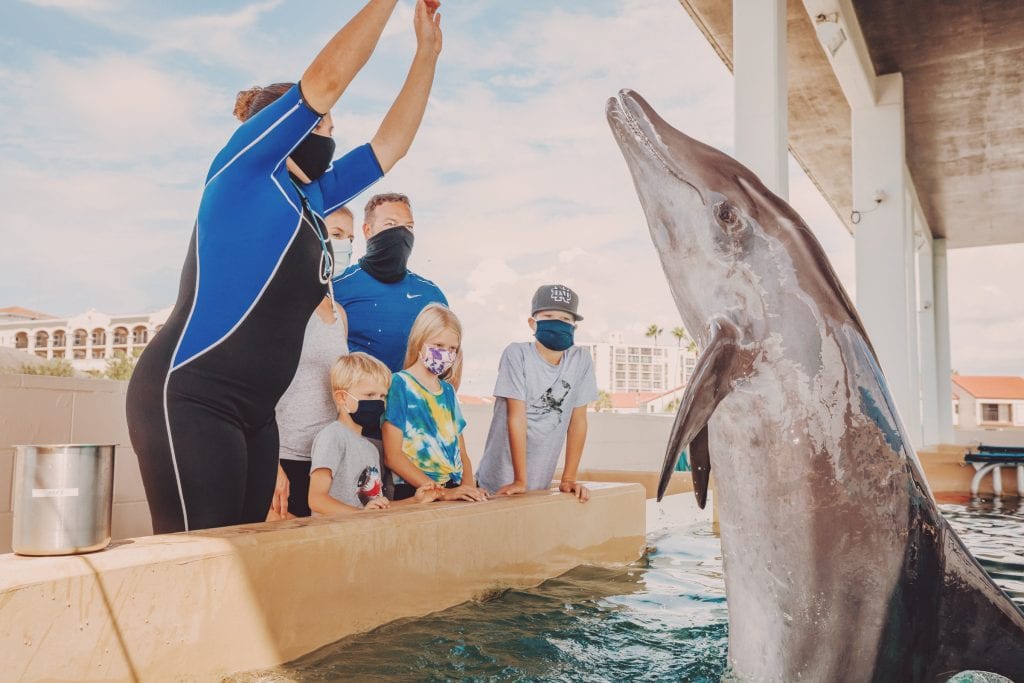 VIP Access with the Dolphin Specialists
Become the Animal Care Team's VIP by going poolside to watch Rex and Rudy during a dolphin session! You will have the opportunity to come poolside with the animal care specialists during a session with our newest resident rough-toothed dolphins! Learn their rescue stories and dolphin-alities while watching these rare dolphins learn and play. A photographer will be there to capture all the memories with you and the dolphins!
Guests will spend time poolside with animal care staff learning about the anatomy, intelligence and beauty of these amazing animals.
Included with Experience
15 min. VIP Experience
6 x 8 Photo with Dolphins
Before You Book
Use our online booking to select the date of your visit for program pricing and availability or call us at 727-441-1790 ext. 0.
Please Note:
SPACE IS LIMITED: Due to high demand, advance reservations are encouraged.
Option to purchase photos on a flash drive.
Opportunities to touch, get wet or feed are not guaranteed in your session.
Jewelry cannot be worn and there are no exceptions.
You will be required to complete a waiver form prior to your experience.
Admission is required and not included with this program.
For the safety of our animals, we require that KN95 masks be worn during dolphin programs to protect them from potential exposure to COVID. There is limited information about how certain species are affected and with the unique medical conditions of our animals, we want to ensure their safety while still introducing you to our amazing collection. Thank you for helping us to keep them safe. These masks will be provided at Guest Services.
For more information, call 727-441-1790 ext. 0.
All prices are subject to change without notice until paid in full. Seasonal rates, restrictions, and blackout dates may apply.
*Animal programs can be changed or canceled at any time by CMA.