These prehistoric reptiles quickly become a favorite of anybody who spends time with them, and rightly so.
Where to See
Boba
Green Sea Turtle
(Chelonia mydas)
Age

Juvenile

Sex

Male
Origin

Volusia County, Florida
Boba joined the CMA family in December 14, 2021. He was originally found floating on May 4, 2018, unable to dive, and taken to SeaWorld for rehabilitation. The initial examination showed that he had an old healed injury to the left side of his carapace (shell). A CT scan was performed and showed that the injury had impacted Boba's spine, which was causing the buoyancy. During the rehabilitation process, Boba developed a mild case of fibropapilloma and was treated with surgical removal of the tumors. After being quarantined for a year, he is fibropapilloma free. Boba is our newest and smallest resident green sea turtle..
Snorkel
Loggerhead Sea Turtle
(Caretta caretta)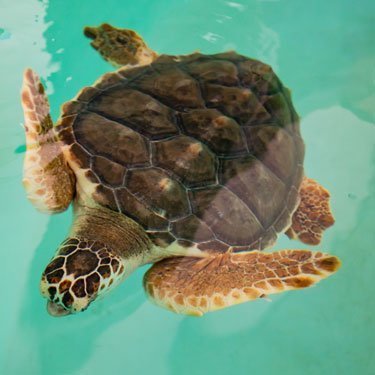 Age

Juvenile

Sex

Female

Size

11 lbs
Origin

Gulf Shores, Alabama
Snorkel is a loggerhead sea turtle who joined the CMA family in November 2018. The small turtle was found as a "washback," a term used to describe a young sea turtle that washed ashore due to heavy winds and surf. Snorkel was found with damage to the upper beak and both eyes due to unknown trauma that occurred prior to the washback event. Snorkel is missing both nares (nasal openings generally located above the beak on a sea turtle), the upper jaw, and is blind. Although blind, Snorkel does respond quite well to tactile interaction. Therefore, our team will be seen interacting in a very different way than we do with our other sea turtles. Remember, these animals are federally protected, and the care we provide is specialized to ensure each animal continues to live a happy and healthy life with us.
Bailey
Green Sea Turtle
(Chelonia mydas)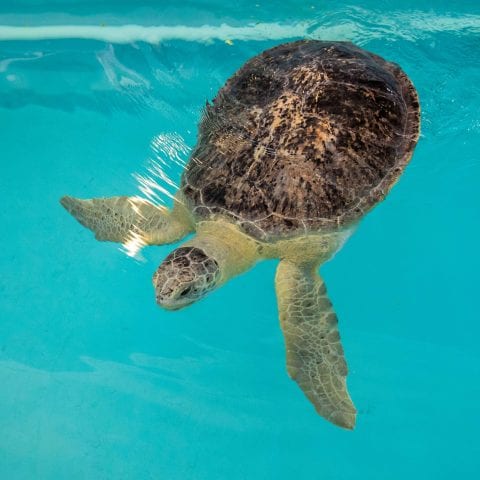 Age

Adult

Sex

Male

Size

180 lbs
Origin

Bailey's Bluff, Holiday FL
Bailey joined the Clearwater Marine Aquarium family on November 12, 1989. Upon arrival, Bailey had pneumonia, a fractured front flipper, and a buoyancy disorder. Bailey overcame many of his initial challenges, but still retains his buoyancy disorder. Bailey suffers from paralysis that affects his buoyancy. Because his spine is fused with his carapace, he sustained permanent damage to his spinal cord, leaving him paralyzed from mid carapace due to what we believe was a fishing accident. This has caused long term difficulty with his GI tract that requires regular assessment. Bailey receives lots of attention from our staff, interns, and volunteers.
Daphne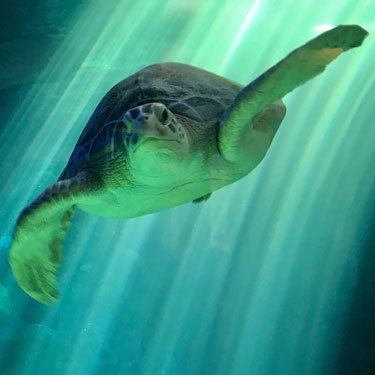 Age

Juvenile

Sex

Femaile

Size

48.5 lbs
Origin

Dog Island, Franklin County
Daphne is a juvenile, female green sea turtle that originally stranded on Dog Island in Franklin County, Florida on January 5, 2018. She was rescued as part of a cold-stun event. She was originally rehabbed by Gulf Specimen in Panacea, FL and presented with an old, healed wound to the mid-carapace on the left side and rear buoyancy in water. Daphne now lives with several other rescued sea turtles at CMA in Mavis's Rescue Hideaway.
Cocoa
Green Sea Turtle
(Chelonia mydas)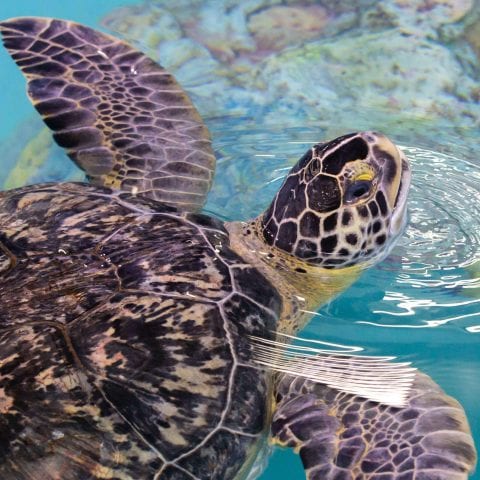 Age

Adult

Sex

Male

Size

175 lbs
Origin

Cocoa Beach, FL
Our gentle giant, Cocoa, was found by a fisherman floating near the Haulover Canal on February 28, 1999. Cocoa had deep propeller damage to his head, his right front flipper and plastron. Recovered by the Coast Guard, he arrived at Clearwater Marine Aquarium on March 1, 1999. Upon closer examination of his wounds, it was found that the most severe injuries were sustained on his head. The wound went through the roof of his skull, through his left eye, and down through his maxilla. Cocoa also had a variety of issues including a broken ulna in his right front flipper, a semi-healed fractured radius in his left front flipper, a ruptured right eye, and severed edges of the maxilla that would need to be surgically rejoined. Although Cocoa has overcome many obstacles, the trauma he received to his head did a substantial amount of damage, leaving him completely blind. Cocoa regained normal mobility in his flippers, and while he has the ability to swim normally, dive, and rest on the bottom, he is a unique case because he cannot forage nor locate food on his own. Every day, one of our Sea Turtle and Aquatic Biology team members gets into the pool with Cocoa and ensures he eats his squid, fish, and greens.
Cupid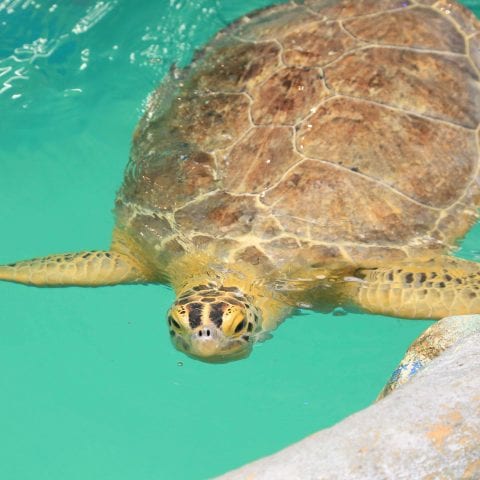 Age

Sub-Adult

Sex

Female

Size

50 lbs
Origin

Franklin County, FL
Cupid stranded on February 14, 2010, and found in Franklin County, Florida by Alligator Point Turtle Patrol. She was found with many abrasions to her face, a lot of barnacles on her carapace and a previous healed injury to her left rear flipper. Cupid was transferred to Clearwater Marine Aquarium in July 2010 from Gulf World Marine Park. Upon arrival, she was also treated for a buoyancy disorder. Cupid is a very good eater.  She is always very active during her feeds and often will solicit attention from team members.  She seems to enjoy swimming under and through various enrichment devices that she has in her habitat, often rubbing her flippers and shell on various surfaces provided to her. Cupid is now considered a sub-adult, based on the size of her shell.
Harold "Mavis"
Green Sea Turtle
(Chelonia mydas)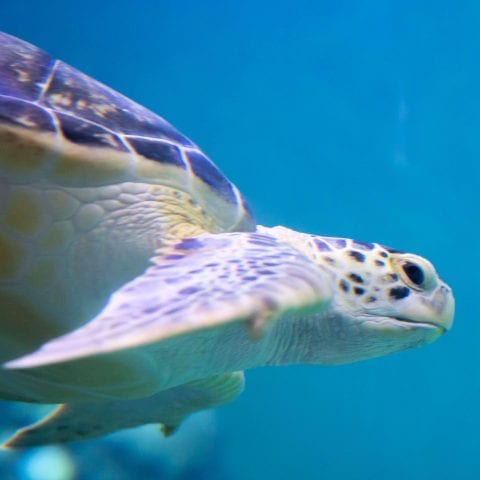 Age

Sub-Adult

Sex

Male

Size

70 lbs
Origin

Pinellas County, FL
Harold was found crawling on the beach in an overall healthy condition. However, when he was found he had a fibropapilloma tumor on his neck. He was admitted into Clearwater Marine Aquarium on July 18, 2010. Surgery to remove the tumors was performed successfully. Harold recovered from surgery and no new tumor growth was noted. However, Harold was unable to find and forage for food on his own. It was discovered he had some neurological issues affecting his eyesight, however, he can still see. Because vision impairment would limit his ability to forage and avoid predators in the wild, Harold is not considered releasable. He is a busy turtle, often preferring to swim laps in the habitat while other turtles take naps. Harold is also a movie star with his role as Mavis in Dolphin Tale 2.
Max
Kemp's Ridley
(Lepidochelys kempii)
Age

Adult

Sex

Male

Size

60 lbs
Origin

St. Petersburg, Florida
Max has been a resident at Clearwater Marine Aquarium since January 12, 1984, making him one of the first resident turtles at CMA. Max sustained a very severe head injury that left him mostly blind, disqualifying him from release. Max has had to make adjustments to find his food and often takes a little longer than others to eat. He can see best out of his right eye and often circles to the right to see around his habitat. Max most often lives with another Kemp's ridley, Rob. They are often found sleeping together in their favorite spot. He is a more active sea turtle and often will be found cruising through the water while the other turtles take naps. His favorite source of enrichment is eating ice toys colored with food dye.
Rob
Kemp's Ridley
(Lepidochelys kempii)
Age

Adult

Sex

Male

Size

61 lbs
Origin

Crystal River Power Plant in Citrus County, FL
Rob was found on September 3, 2001, and admitted to Clearwater Marine Aquarium. Rob, who was a juvenile at the time, weighed only 7 lbs, and had a wound to both his upper and lower jaw on his right side. Although this was an old wound that was healed over, the rhombus on his top jaw was sliced all the way down to the bone. His injuries made him difficult to feed in the beginning, but things began to turn around when he began foraging on his own in mid-November. Rob had two minor surgeries in 2008 to ensure his jaw would heal entirely with no future problems. Today, Rob has come a long way from the 7 lb little guy stranded in 2001. Rob continues to have some difficulty catching his food and eating it easily, so he remains at the aquarium to ensure he gets a diet to fit his needs. Rob is a very easygoing turtle who loves his squid, and spends most of his time napping. Rob shares an exhibit with another male Kemp's Ridley, Max. His favorite type of enrichment is finding different hideaways and shelters in his exhibit.
Titus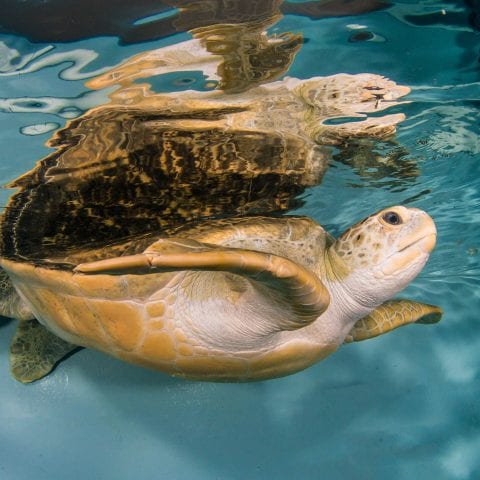 Age

Sub-Adult

Sex

Female

Size

147 lbs
Origin

Titusville, FL
Titus was brought to Clearwater Marine Aquarium from Titusville, FL on January 14, 2002. She had an old propeller injury, a few small treatable Fibropapilloma tumors, and a buoyancy disorder because of the injury to her shell. Titus had her tumors surgically removed. Once it was determined that Titus would not be a candidate for release due to her inability to remain submerged, she was returned to Clearwater Marine Aquarium to become a permanent member of our sea turtle family. Titus eats various greens and is often seen submerging herself under rocks and ledges in her habitat to take naps.
Stubby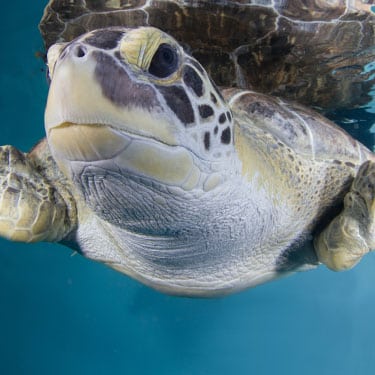 Age

Sub-Adult

Sex

Female

Size

145 lbs
Origin

Duval County, FL
Stubby was brought to Clearwater Marine Aquarium on May 9, 2001, because she had sustained severe injuries from a monofilament fishing line entanglement. Both of her front flippers were missing and pieces of her rear flippers were missing. We believe this was due to other opportunistic animals foraging on them. Stubby's wounds healed, but she continued to float and is unable to dive because she lacks front flippers. Even though she has had to greatly adjust how she gets around, Stubby is one of the friendliest turtles at the aquarium. She quickly swims over to "greet" anyone who visits her pool, she loves eating greens, blowing bubbles and receiving a lot of tactile from our interns and volunteers during her feeding sessions.
Ula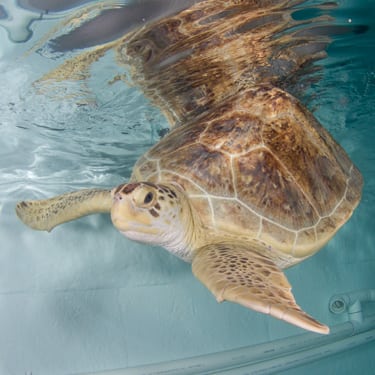 Age

Sub-Adult

Sex

Female

Size

108 lbs
Origin

Pinellas County, FL
Ula was found by a boater floating at the surface in Pinellas County on April 2, 2013, covered in moss. When found, she had a humped shell instead of a smooth, rounded carapace. This prevents her from remaining submerged, making her non-releasable. It is believed that she suffered a trauma in the wild, due to a boat strike, and then the carapace healed itself but misshaped. Ula was a picky eater initially, and has a specialized diet of romaine lettuce, avocado, and zucchini; however, she will devour squid often. One byproduct of the damage to her shell and spinal cord, which is fused to the back of her shell, is that she is hyper-sensitive to touch on the rear end of her shell. Ula interacts with all kinds of enrichment, but especially things she can rub her back on!
Our team is deeply saddened to share Madam has passed away. Learn more about her story.
Sea Turtle Species
Status

Threatened

Average Size

300-350 lbs
Origin

Tropical Oceans
Largest hard-shell turtles
Average size of 300-350 pounds
Characteristic serrated jaws
Nests and forages in Costa Rica, Florida, and the Caribbean
Green muscle coloration
Genetically similar to Pacific green sea turtles
Primary threats: boat accidents, trash or fish hook ingestion, loss of habitat
Status

Threatened

Average Size

200-300 lbs
Origin

Nearly every ocean in the world
Threats: Loss of habitat, artificial lighting, shrimping, long-line fishing, pollution, boat accidents

Defining Characteristic: Teardrop-shaped shell

Nest further from the equator from any other species

Males have nearly a foot-long tail

Only species to nest exclusively at night
Status

Critically Endangered

Average Size

100-120 pounds
Origin

Tropical Oceans
Threats: Poaching for use in jewelry manufacturing

Defining characteristic: Bird-like jaw

Remain close to feeding and nesting zones
Status

Critically Endangered

Average Size

80-120 lbs
Origin

Gulf of Mexico & Eastern US seaboard
Threats: Poaching

Defining Characteristic: Only species to nest in large groups, known as arribadas

Most endangered species of sea turtle

Fast-swimming, feed primarily on crabs
Status

Endangered

Average Size

1300 lbs
Origin

Tropical waters globally
Threats: Long-line fishing

Defining Characteristic: leathery shell

Size allows them to tolerate colder temperatures

Lay 50-120 eggs per nest, most of which are infertile

Population increasing
Did You Know…
Some sea turtles can hold their breath for up to five hours underwater. To accomplish this, the turtles slow their rate to one beat every nine minutes in order to conserve oxygen!
Sea turtles can detect the Earth's magnetic field and use it as an internal compass to find their way.
Sea turtles cannot retract their flippers and head into their shells. This makes them more streamlined in the water, but more vulnerable while nesting on land.
The sex of sea turtles, like other reptiles, depends on the temperature in the nest. That temperature is generally around 82 degrees F (29 degrees C) though that can vary by species and location.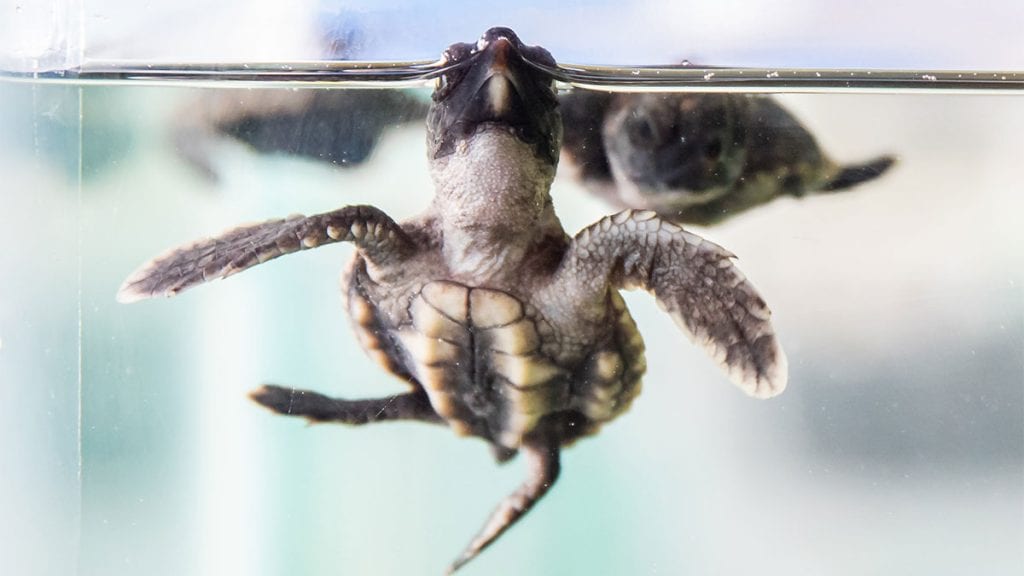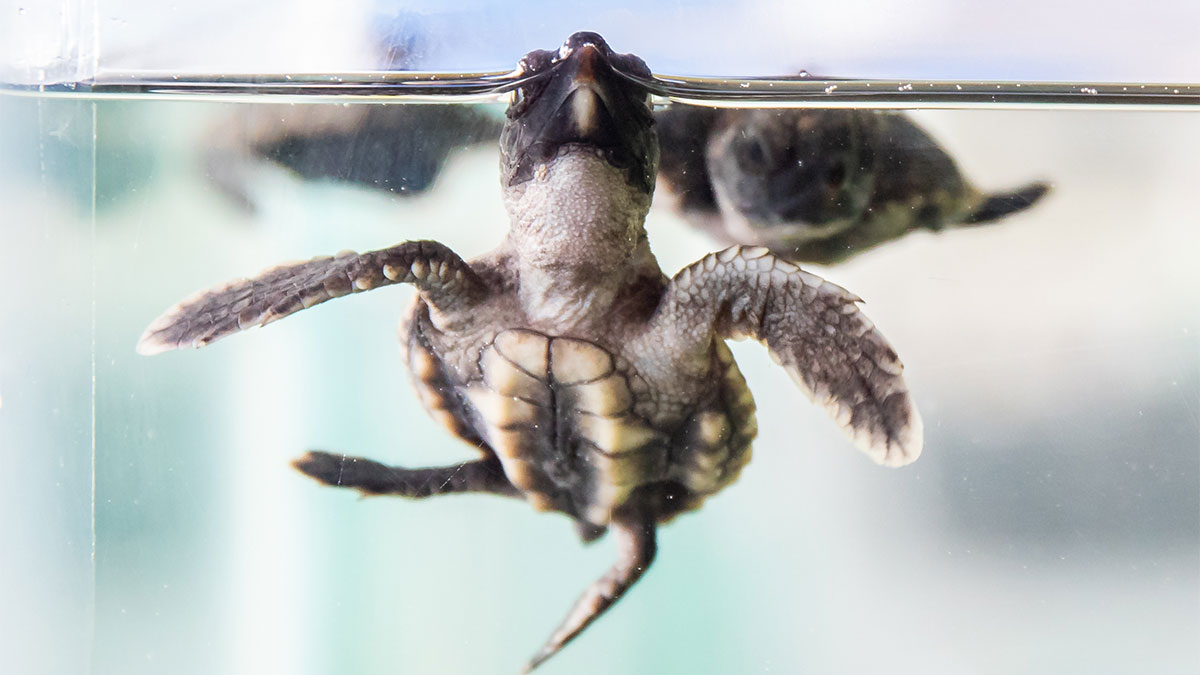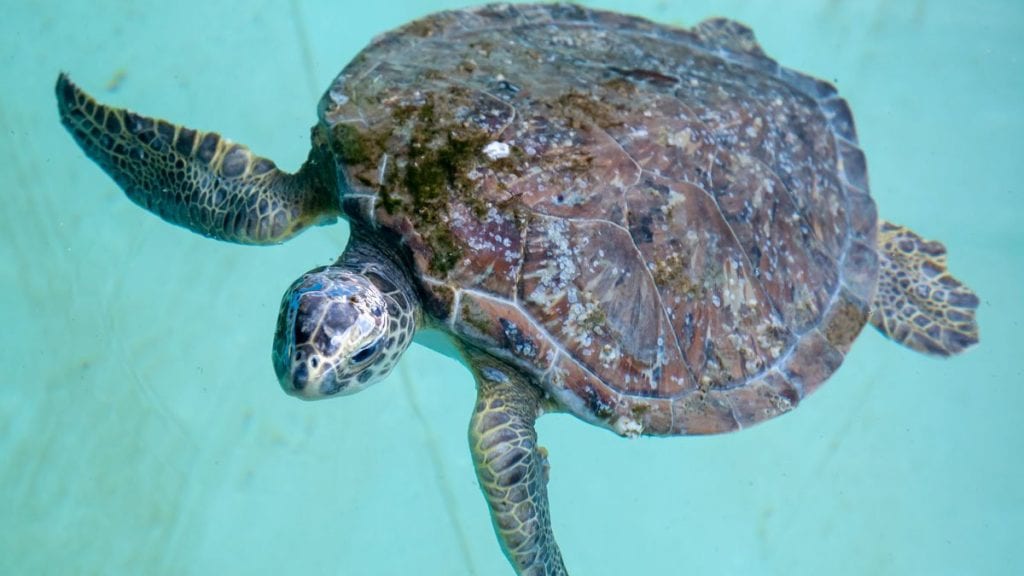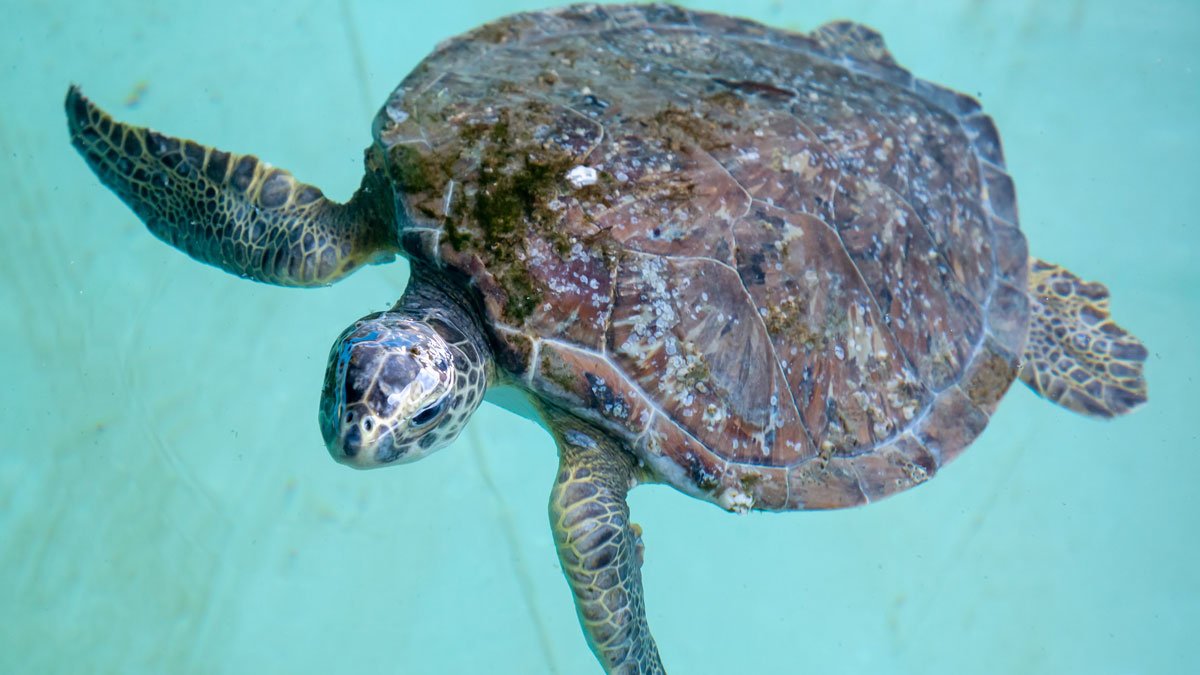 All of our resident sea turtles are deemed non-releasable by Florida Fish and Wildlife Conservation Commission. Due to their non-releasable status our team of trained Biologists, volunteers, and interns will be seen interacting with these animals in a manner exclusive to these turtles and in accordance to FWC Marine Turtle permits to ensure they are properly cared for in their forever home. All sea turtles are federally protected and should be appreciated from afar in the wild.
All marine turtle footage taken in Florida was obtained with the approval of the U.S. Fish and Wildlife Service and the Florida Fish and Wildlife Conservation Commission (FWC) under conditions not harmful to marine turtles. Footage was acquired while conducting authorized conservation activities pursuant to FWC MTP-18-172.