Izzy is CMA's newest resident Atlantic bottlenose dolphin. She was rescued near North Padre Island,Texas in June 2022 after years of illegal human interaction in the wild caused her health to decline and required intervention. CMA was selected as her forever home, where she arrived on November 4, 2022.
Where to See
About Izzy
Izzy
Atlantic bottlenose dolphin
( Tursiops truncatus)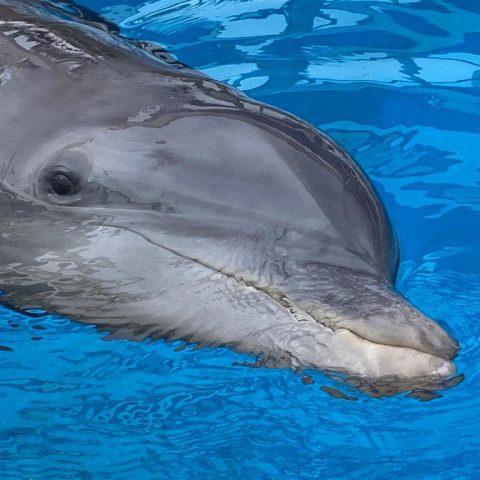 Estimated Age

7

Sex

Female
Diet

Herring, capelin, silversides
Rescue Date

06/30/2022

Origin

North Padre Island, Texas

Arrival Date

11/04/2022
Clearwater Marine Aquarium is the forever home to a non-releasable juvenile bottlenose dolphin known as Izzy. The female dolphin was rescued in June of 2022 near North Padre Island, Texas by NOAA and partners from the Texas Marine Mammal Stranding Network after years of illegal human interaction in the wild caused her health to decline to the point of requiring intervention and medical attention. We are happy to provide a forever home to this animal and give her the love and care she deserves as part of the CMA pod!
More about Izzy
We will slowly introduce Izzy to her new home so she has adequate time to become comfortable in her new environment. First, our Animal Care Team will work with Izzy to establish relationships and allow her time to navigate our middle pool, which is used for medical care. Next, we will introduce Izzy to Hope and Apollo. Integration to this group will be of mutual benefit for all animals and enhance the current social dynamics. Help us welcome Izzy to the CMA pod!
Did You Know…
Izzy was named after isla or island for North Padre Island, the area where she was found in Texas.
Izzy was rescued in Texas after years of illegal human interaction from boaters and individuals attempting to approach, touch and feed her caused her health to decline and changed her natural behavior.
Give wild dolphins space and never approach, feed or touch an animal in the wild. Every interaction can have a lasting impact.
When dolphins interact with people or approach boats or piers, they are at high risk for serious injury or death from boat strikes or entanglements in fishing gear.
CMA was chosen as Izzy's forever home because of the animal care staff and veterinary team's expertise in caring for rescued bottlenose dolphins. Our team also has experience in working with animals who may have developed behaviors that result from human habituation. In addition, CMA has an established social group for Izzy to join which will benefit all the animals.
Dolphins are protected federally under the Marine Mammal Protection Act. The MMPA provides for both civil and criminal penalties for illegal "takes," a term that includes feeding, harassing, or disturbing marine mammals in the wild.