Clearwater Marine Aquarium's educational department provides marine science-based activities that are engaging and fun for homeschool students visiting CMA or learning virtually from home.
Program Details
Available

January-May

Time

10:00 am to 12:00 pm

Day

January 13, January 27, February 10, February 24, March 10, March 24, April 14, April 28, May 12
Student Ages

5 and Older

Duration

Daily

Price

$25 (one child & chaperone); $10 per additional child
Spring Hope's Homeschool
Join us each month for Spring Hope's Homeschool programs. Enjoy fun, and educational programs filled with marine science based activities. Participants will explore Clearwater Marine Aquarium, learn about the work conducted at a working marine animal hospital, and explore marine science topics.

January 13 – Derelict Detective: Derelict crab traps can be harmful to marine animals. Winter the dolphin and Ozzy the sea turtle were both negatively impacted by crab traps. Become a derelict detective as you learn about ocean debris that can affect marine life.
January 27 – Manatee Mania: Investigate manatee anatomy, biology, and conservation. Learn how CMA assists with manatee rescues and ways you can help to protect wild manatees.
February 10 – Your Otter Be Mine: Discover the differences between sea otters and river otters in this Valentine's day themed program. Learn the stories of our rescued resident river otters, Walle and Boomer.
February 24 – Sea Turtle Snacks: Discover what our sea turtles love to eat for snacks and watch as our sea turtle team gives out ice toy snacks to our residents. Learn about sustainability by visiting our aquaponics exhibit where we grow lettuce for our sea turtles. 
March 10- Radical Reefs: Did you know CMA assisted in making an artificial reef? Learn all about coral reefs, artificial reefs, and the animals that call reefs home. Participate in hands-on activities to explore biodiversity.
March 24 – Clearwater Marine Aquarium Researcher: Step into the role of researcher discovering how Clearwater Marine Aquarium Research Institute uses photo identification to study dolphins and right whales. 
April 14 – Water They Eating?: Dive into marine food chains and food webs to discover the interconnectivity of the ecosystem.  Create your own plankton tow to collect a sample and use a microscope to investigate an important part of the food web.
April 28 – Exciting Estuaries: Learn all about the habitat and animals right outside CMA in the estuary. Determine the necessary aspects of a habitat and go on a habitat hunt around the aquarium. Discover the amazing adaptations of seahorses, an estuary animal.
May 12 – Conservation Connection: Explore the many ways you can participate in conservation efforts. From water usage to microplastics, you can make choices every day that make a difference. Use your creativity to participate in a recycled materials fashion show.

Class sizes will be limited, with social distancing, and CDC best practices for sanitation and hygiene will be implemented.
For more information, please contact: EduCoordinator@cmaquarium.org or call 727-441-1790 x 262.
Program Details
Available

Please Contact Education Coordinator

Length

45 min

Pricing

$150.00
Age Range

Any age range is available.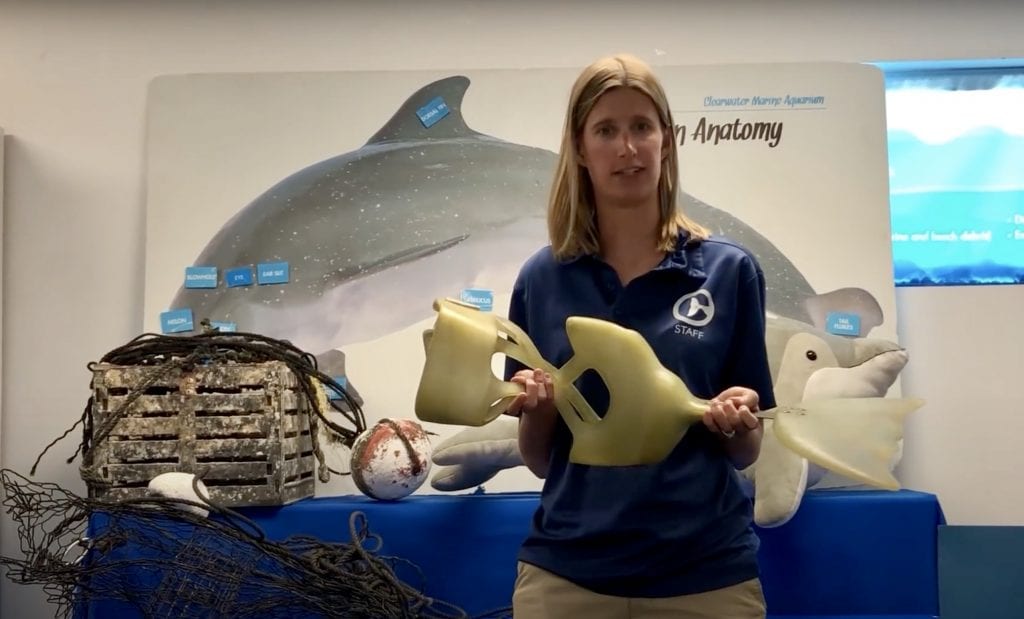 Virtual LIVE Field Trip
Virtually meet with an Education Biologist along with a training session with one of our resident dolphins. Have all of your questions answered live and virtually around the aquarium. This program is a one-time occurrence for 45 minutes priced at $150. Contact the Education Coordinator at educoordinator@cmaquarium.org to book your custom and unique learning experience today.
Program Details
Available

Year-Round

Length

Varies

Pricing

Starting at $15.00
Age Range

K-12th Grade
Hope's Study Buddy
Hope's Study Buddy courses provide virtual learning opportunities that are based on current teaching standards and review math and science concepts. Whether it is reviewing material from the previous year or supplementing your child's current curriculum, Hope's Study Buddy courses can help stimulate learning. Some courses offer an option to upgrade for a live session when your learner will get to speak to a marine life educator on the topic of their program. Learn more about the offered courses by visiting our Marine Academy.