Winter, our most famous Atlantic bottlenose dolphin, is the star of Dolphin Tale. After losing her tail from becoming entangled in a crab trap line, the team at Clearwater Marine Aquarium worked with the Hanger Clinic to develop a prosthetic tail, allowing Winter to make a full recovery!
Where to See
Meet Winter
Winter
Atlantic bottlenose dolphin
(Tursiops truncatus)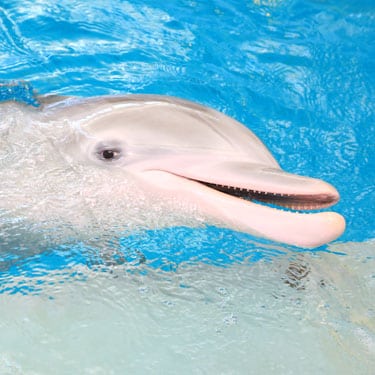 Age

16

Sex

Female

Rescue Date

12/10/2005
Origin

Mosquito Lagoon, FL

Diet

Capelin, silversides, mullet
Winter was found when she was two months old tangled in crab trap line, which cut circulation to her tail flukes. This eventually led to a deterioration and loss of her tail. While most dolphins in this situation wouldn't survive, Winter adapted to her new physical form and made a complete recovery!
More About Winter
Winter's case was one of the most difficult for CMA. Her story is a bittersweet realization of the dangers faced by animals as a result of human activities in the wild, such as fishery interactions. Through these types of interactions, dolphins and other marine life often become susceptible to entanglement and ingestion of fishing line or other gear that can cause them to become injured, ill or potentially lead to their death. In order to mitigate these impacts and conserve these species, it is critical for us to do our part and keep our oceans clean and recycle and promote laws and regulations that improve upon fishing practices. Together, we can make a difference!
Hanger Prosthetics and Orthotics, Inc., together with Dr. Mike Walsh and CMA's world-class Animal Care Team, created a unique plan to attach a prosthetic tail to Winter.
Winter is missing her entire tail fluke and joint. Tail flukes are the powerhouse of the dolphin and are attached to the peduncle, the muscular part of the dolphin. To swim naturally, a dolphin moves the peduncle up and down and the tail flukes propel the dolphin forward.
Winter and the story of her prosthetic tail has inspired millions to persevere through life's toughest obstacles. Learn more about the lives she's touched and their own inspirational stories.
Did You Know…
Winter's favorite toy is her mat.
Winter was found in December, and is named after the chilly season she was found in!
When Dolphin Tale was filmed in 2010, Winter was only five years old, making her the youngest star on set!
Winter has multiple forms of physical therapy, including her prosthetic tail.
While nobody knows her true date of birth, the team at CMA estimates her birthday to be October 10, 2005.