PJ was one of the oldest dolphins at CMA. She was estimated to be over 50 years old and arrived at Clearwater Marine Aquarium in March of 2019.
We are deeply saddened to share the passing of PJ, our eldest bottlenose dolphin. She was in the loving arms of her animal care and vet teams as she took her last breaths. We did all we could to ensure she was as comfortable as possible during her last moments with us. Estimated to be 51 years old, PJ lived a long and whole life – and we are so incredibly grateful to be able to provide her every comfort during her sunset years. From the instant she arrived at CMA following her rescue, it was clear that her easygoing personality would make her a perfect match for Winter and Hope. She later acted as a motherly figure with our newest rescue, Apollo. PJ is now able to join Winter and serve as her bodyguard for eternity – as she would have it no other way.
About PJ
PJ
Atlantic Bottlenose Dolphin
(Tursiops truncatus)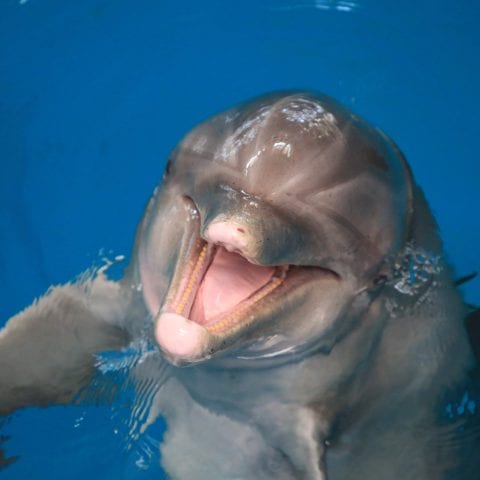 Age

51

Sex

Female

Rescue Date

8/21/2018
Origin

Tampa Bay, FL
Clearwater Marine Aquarium provided a forever home for PJ, who became a permanent resident in March 2019. PJ lived with Hope and Apollo at CMA's Ruth and J.O. Stone Dolphin Complex.
More About PJ
PJ was a female Atlantic bottlenose dolphin who was rescued in August 2018. The dolphin stranded in shallow water in Old Tampa Bay, where she was assessed by CMA's veterinarian and other rescue organizations, and then transported for rehabilitation with authorization from National Marine Fisheries Service (NMFS). She was initially believed to be approximately 30 years of age at the time of her rescue, but further testing indicated that PJ was in her late forties. PJ recovered but was classified as non-releasable by NMFS for numerous medical issues, including severe hearing loss, vision loss, worn teeth and arthritis, thus the need for long-term resident care.
Clearwater Marine Aquarium provided a forever home for PJ, who became a permanent resident in March 2019. CMA's experience with other deaf, blind and older dolphins with similar issues made our rescue facility a great location for PJ to receive the specialized animal care she needed. PJ lived with Winter, Hope and Apollo at the Ruth and J.O. Stone Dolphin Complex at CMA.
PJ's older age and condition as a partially deaf dolphin is reminiscent of Panama, who was a past resident at Clearwater Marine Aquarium. Panama's bond with Winter was also featured in Dolphin Tale 2.
Panama came to CMA after stranding in Panama City on October 21, 2000. After being treated for anemia and a severe sunburn, the National Marine Fisheries and Wildlife Service determined she would not be a successful candidate for release and transferred her to CMA on March 23, 2001. Panama was believed to be partly or fully deaf and it was determined she was a "beggar" dolphin in the wild, which means she would rely on boaters tossing out fish or scraps opposed to catching fish on her own in the wild. PJ is also believed to be a beggar dolphin who approached humans for food.
Did You Know…
In 2012, Panama met our youngest dolphin, Hope, and all three quickly bonded.
PJ was estimated to be 51 years old.
PJ was believed to be partly or totally deaf.