Hemingway was one of CMA's oldest residents. He was found stranded in shallow waters off Fiesta Key, Florida and brought to CMA in 2020.
In Memory of Hemingway
January 23, 2023
Our team is heartbroken this morning. At approximately 1:30 a.m. today our beloved rescued dolphin Hemingway passed away, surrounded by his Animal Care and Veterinary teams. 
Hemingway was estimated to be about 37 years old. He was found stranded off Fiesta Key, Florida in July 2019 and joined Clearwater Marine Aquarium's family in June 2020 after he was deemed non releasable due to hearing loss and ongoing health concerns. Hemingway lived at the Ruth & J.O. Stone Dolphin Complex with Apollo and Nicholas.
Animal Care staff noticed a change in Hemingway's behavior late last week and began treating him for a suspected gastrointestinal condition. CMA's Veterinary team contacted veterinary experts, including our veterinary radiologist who assisted us in the past with GI diagnosis and treatment.
Together, our team did all that was possible to keep Hemingway comfortable. He will be missed by us all. A necropsy will be performed in an attempt to determine the cause of death.
Clearwater Marine Aquarium is proud to provide a home to rescued, non-releasable, and compromised animals, like Hemingway, who need managed care. For the past 50 years, we have served as a marine animal hospital and champion for marine life conservation. During his time with us, CMA staff was able to share Hemingway's story and the importance of protecting dolphins in the wild. Our team learned new practices and continued to improve our approach in caring for dolphins with hearing loss. We are forever grateful for the time we had with Hemingway and are proud of our staff and volunteers for the level of care we provide to all the animals in our care.
We appreciate all the love and support from our community as we mourn his passing.
About Hemingway
Hemingway
Atlantic bottlenose dolphin
( Tursiops truncatus)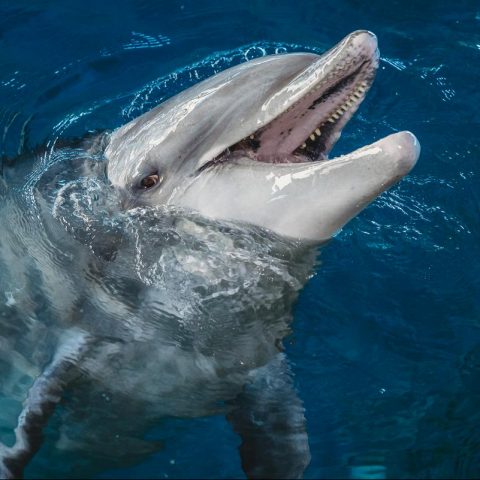 Age

37

Sex

Male
Diet

Herring, capelin, silversides
Rescue Date

07/26/2019

Origin

Fiesta Key, Florida
In July 2019, Hemingway, an Atlantic bottlenose dolphin stranded in shallow waters off Fiesta Key, Florida. When he was rescued by Dolphins Plus Marine Mammal Responder, the dolphin was weak and was found to have severe pneumonia. He was transported to SeaWorld for rehabilitation. After several weeks of treatment, the dolphin's health improved but further testing indicated he had hearing loss. Due to his ongoing health issues and hearing loss, National Marine Fisheries Service (NMFS) ultimately determined the dolphin was not a candidate for release.
More about Hemingway
Clearwater Marine Aquarium was selected by NMFS to be the forever home to this rescued male bottlenose dolphin. CMA has a long history of working with dolphins who exhibit hearing loss and we feel confident this will be a great forever home for him.
Hemingway became a companion for Nicholas, our other male Atlantic bottlenose dolphin, who was rescued in 2002. Hemingway weighs 700-pounds and is joining Nicholas at CMA's Ruth & J.O. Stone Dolphin Complex. Nick and his new friend have bonded quickly! Nicholas even helped pick the new dolphin's name after CMA received nearly 12,000 name suggestions from the public.
Did You Know…
Nicholas picked Hemingway's name in June 2020.
Hemingway was rescued by Dolphins Plus Marine Mammal Responder.
Hemingway is from Fiesta Key, Florida