H2O: Healthy Habitats and Oceans at Florida Power and Light Manatee Lagoon
Date
February 1
9:00 am – 4:00 pm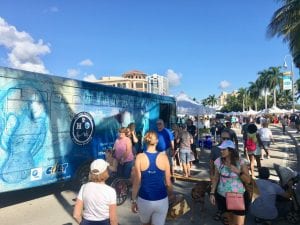 About the Event
Please join us for ManateeFest at FPL's Manatee Lagoon this Sunday, Feb. 1 from 9 a.m.-4 p.m.. Stop by CMA's Healthy Habitats and Oceans (H2O) mobile classroom to learn more about our conservation work, and don't miss the CMA Research Institute Executive Director, Dr. James "Buddy" Powell, speaking about Mermaids and Manatees at 10 AM and 2:30 PM. We hope to see you there!
Location: 6000 N Flagler Dr, West Palm Beach, FL 33407
Clearwater Marine Aquarium Research Institute (formerly Sea to Shore Alliance) is extremely grateful for the donation of $20,000 generously donated by Florida Power and Light (FPL) in December 2018. This funding is supporting our H2O: Healthy Habitats and Oceans Program, which educates the general public about the impacts of marine debris, shares ways to reduce its impact and promotes marine stewardship. The H2O program consists of two components: public education for children and adults through our H2O Marine Mobile Classroom and direct removal of marine debris from marine environments.
Sign up to receive email updates on upcoming clean up and more Healthy Habitats and Oceans (H2O) mobile classroom events.
Upcoming Events:
Saturday, February 15, Cleanup at Ocean Inlet Park 8-10:30 a.m.
Saturday, March 7, Gumbo Limbo Nature Center in Boca Raton 9 a.m.-4 p.m.
---