Recurring event
see all
Join us for family-friendly spooky nights at Clearwater Marine Aquarium!
Date
October 28
4:00 pm – 8:00 pm
Boos and Bubbles event access is included with admission!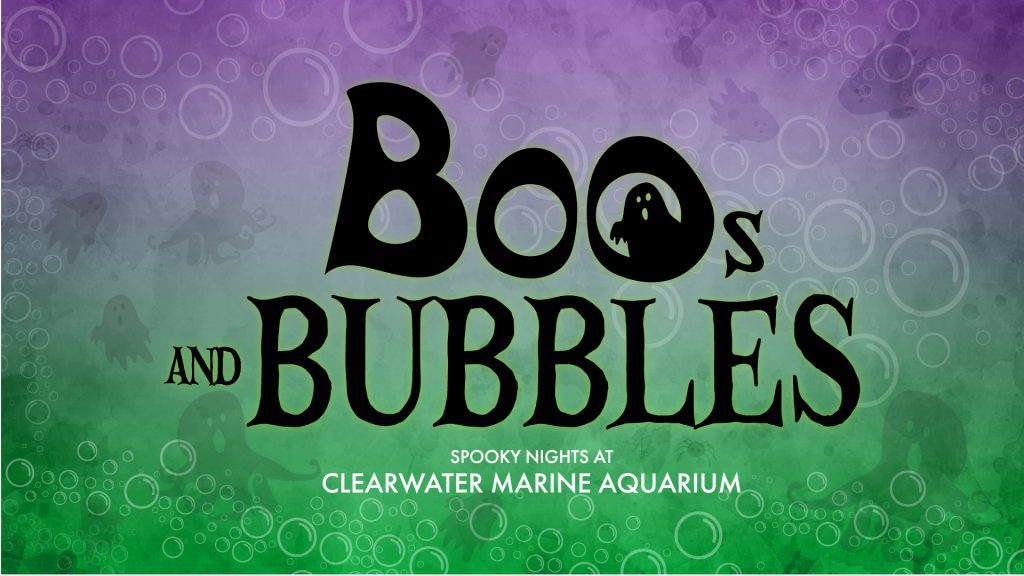 About Boos and Bubbles
Ghosts float… Bubbles float.
Ghosts are transparent… Bubbles are transparent.
Ghosts disappear… Bubbles disappear.
Are ghosts bubbles? Find out this October at CMA's new Halloween event, Boos and Bubbles! This high spirited event will be packed with playful poltergeists, giggling ghosts and silly specters… plus billions of bubbles. Families will be able to celebrate Halloween by dancing at the "Bubble Party" hosted by DJ Boo! Guest and ghosts will meet and mingle throughout this fall festival, creating photo opportunities that have never been seen in this realm of existence. Float on by for some festive family fun at Boos and Bubbles!
Dates:
Oct 14-15
Oct 21-22
Oct 28-29 – Featuring Trick-or-Treat Candy Stations Halloween Weekend!
Included Activities
Experience other-worldly entertainment in the theater every evening at 4:30pm, 5:30pm and 6:30pm
10/14-10/15 Bubble Show
10/21-10/22 Magic Show
10/28-10/29 Variety Show
Other activities:
Enjoy music from DJ Boo and join the bubble dance party throughout the evening!
Creepy crafty kids corner activities
Spooktacular underwater dolphin presentations
Ghost dive presentations
Bubble acrobats and more!
Free Boat Ride Included!
Board our boats for a trip around the haunted waters of Clearwater Bay.
One free boat ride ticket per guest with purchase of admission on select dates during Boos and Bubbles. Boat tickets can only be reserved onsite on day of visit with admission. 30-minute boat rides begin at 3:30pm and run every 30 minutes. Final boats depart at 7pm. Boarding is first come, first served. Space is limited and subject to availability. No strollers or wheelchairs permitted on boats. Boat rides and all activities subject to change or cancellation due to weather.
Boos and Bubbles event access included with general admission after 4pm on select dates!
Activities and schedule subject to change and may vary by date.
Additional Spooky Experiences
Build a Harvest Salad for a Sea Turtle
Create a nutritious harvest salad for our resident green sea turtles using greens from our hydroponic farm stuffed into a pumpkin! After learning about our hydroponic system, harvest some lettuce and accompany a CMA Biologist into the food prep area to make the healthy meal! Once complete, watch as your harvest salad is fed to a resident turtle or group of turtles!
Halloween Photo Booth With Rough-Toothed Dolphins
Go poolside and meet our rare rough-toothed dolphins, Rex and Rudy! Our professional photographers will capture the memories the rescued dolphins as you pose with fun photo booth props to celebrate the spooky season!
Book the Spooky Edition of the Dolphin and Wildlife Boat Tour for a spooktacular guided experience.
Explore Clearwater Bay's haunted waters during this 60-minute eco-boat cruise. Learn spooktacular facts about members of our local dolphin population, travel around a bird sanctuary island, and view seasonal local wildlife on this family-friendly spooky cruise.
This limited-time seasonal boat tour is only available for purchase on October 14-29 on Fridays and Saturdays at 12:30pm and 2:30pm.
Dates and details subject to change. Special event hours are 4pm to 8pm, Fridays and Saturdays on select dates, Oct 14 through Oct 29, 2022. All activities subject to change or cancellation due to weather.
A re-entry fee may apply during special events or extended hours at CMA. Re-entry into CMA on these days is $20.00 per person. Guests may apply their purchased admission value and upgrade to a Clearwater Marine Aquarium membership instead of paying a re-entry fee. Members can re-enter at no additional charge.
---